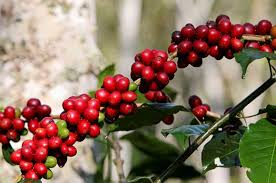 90% of the world's coffee supply is obtained from Coffea Arabica, of which there are about fifteen varieties.
Coffee is a strictly tropical crop that requires a more or less cool and not very humid climate. The fruit, called cherry, is a small spherical drupe containing two seeds, the coffee seeds.
The exact date on which coffee was first cultivated is unknown, but some scholars have placed this fact in Arabia, around the 17th century, which encouraged the Dutch to cultivate it in their colonies.
In the largest archipelago of the Antilles this crop constitutes one of the items of the national economy that requires greater effort, given the existing ecological conditions in the country.
It was José Antonio Gelabert who introduced the first coffee plantations in Cuba in 1748, and began cultivating it in an area close to Havana. However, the real boom came in the 1890s: The slaves' revolt broke out in Haiti, coffee plantations were devastated and its owners, with the slaves, fled to the nearby Caribbean nation.

Some French settlers were fortunate twice over; they came out alive from the revolution of the slaves and came to Cuba where unique natural conditions awaited, with the very best conditions for the production of coffee. They began their cultivation in the highlands of the Sierra Maestra and introduced the correct practice of grain benefit.
The history of coffee has been involved in a number of legends, inference and information of dubious credibility, being admitted today that the most widespread species in the world is Coffea arabica. In its origins, the most popular brew of the drink was reserved to the most privileged classes of society because of its rarity and value.
One of the most popular legends is that of an Arab shepherd named Faust de Kaédi, who noticed that his goats were playful and happy after having eaten the cherries and twigs.
The shepherd of the goats told his experience to the prior or abbot of a nearby monastery, who tasted the fruits and noticed that they had the same effect on him, then he had them tested by some of his monks and kept them awake.

Religious fanatics of Venice and Rome in the second half of the sixteenth century denounced it as the drink of Satan for unbelievers.
The use of coffee and its consumption was known in the east at the beginning of various vicissitudes, and it was condemned more than once by various protectors of social, political and religious order.
In Cuba, when Havana was taken by English troops in 1762, the coffee houses were opened; it is believed that by that time in our country some planters planted coffee for their own use.

The first establishment for the sale of freshly brewed coffee was at the Café de la Taberna in the Plaza Vieja at the corner of Merced Street. In the years 1880-1900, more coffee houses were opened in Matanzas, Camagüey, Cienfuegos and Caibarién.