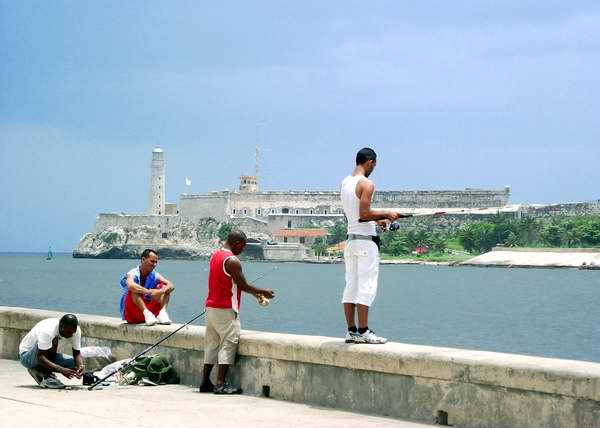 What people in Havana miss the most when they're abroad is ''The Malecon''. You can help but notice that whoever meets them, perhaps in Santiago de Cuba, China, or New York and asks them about Havana's most renowned places, they will always refer to ''The Malecon'' as their most beloved memory, among others, such as: The Morro Castle, La Rampa, Old Havana, 23rd Street, and so.

Likewise, people in Santiago de Cuba love their Carnivals as people do ''Casino Campestre'' (Country Club) in Camaguey, and people in Matanzas adore Sauto Theatre or Varadero beach and so on.

Havana Malecon: scenario of the catching joy of Havana carnivals, a long-solid-concrete wall where couples embrace as well as those who have a Greek-Roman sense of love; and where fishermen remain patiently in silence by the shore without catching a fish, but having a terrible cold which could be called by the name of a wicked character of a Brazilian soap opera; also where tourists from different countries go jogging along to stay fit.

In addition, during the months of July and August it is quite difficult to have a seat on ''The Malecon'', but you will always find those who move kindly to one side for you to sit.

But, for pleasing History lovers, let's go back in time. This wide and beautiful avenue started to be built during the U.S Military Rule.

At the time, its official name was ''Golf Avenue'', stretching from "La Fortaleza de la Punta" (The Tip Fortress) to "El Torreón de San Lázaro", (St Lazarus Tower) but people used to call it: "The Malecon".

In 1921, during the administration of President Alfredo Zayas, it reached the place where the "Maine Memorial" is located; and in 1930, under Gerardo Machado, it stretched from that place to G Street or Presidents' Avenue.

In 1950, during the administration of Carlos Prio Socarras it reached its current location: the surrounding area of ''El Castillo de la Chorrera" ("The Castle of Stream") next to the mouth of the Almendares River.

People have been trying to call it by other names over the years and several constructions, extensions or remodeling; but Havana people will insistently repeat the key word and what they will call it forever: Malecon, Havana Malecon!