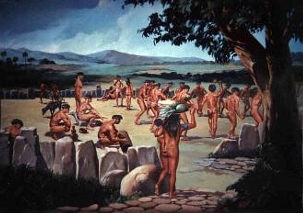 Generally, most people believe that the natives found by Christopher Columbus on his arrival in Cuba were the Siboneyes, so the word siboney has become something of a synonym for "Cuban aborigine."

And this is the first mistake we must reject, because the most important natives in Cuba were not Siboneyes, nor were they the ones who surprised the admiral by their virtues and offended Diego Velasquez for his resistance to the command of Hatuey, coming from the island of Quisqueya, and then under the heroic Guamá, a Taíno leader amongst the first rebels who confronted the Spanish colonizers, fighting for about ten years in the mountains of eastern Cuba.

It is also a great mistake to believe that the largest Antillean archipelago was first discovered by Columbus on October 27, 1492. This was an insolence of the Spaniards. Cuba had already been found several times by other men from previous centuries, from other lands, although not from Europe, its natives came to Cuba.

The arrival of the Asian man to the lands of America by the Strait of Bering has been proven. We must also admit the possibility of a relationship between the cultures of South American natives, from which some of the Indo-Antillean groups have come. And centuries later, it was the arrival of the plague of Europe, specifically of Spain.

The Cuban aborigines are the result of various migratory waves that came to Cuba from different parts of continental America and have been called in three types: Guanahatabeyes, Siboneyes and Taínos.