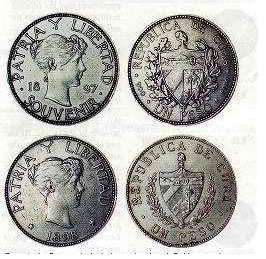 If we go back to the origins of the history of the currency in Cuba, we could point to indications in the early days of the colony with Spain, between 1512 and 1515, when gold bars were used in Bayamo and Santiago de Cuba, which were divided according to the volume of the transactions, in order to cover the need of money that our colonizers had for commerce operations.

The desire to have an authentic Cuban currency only came to fruition when the Father of the Homeland, Carlos Manuel de Céspedes, achieved the emission of paper money in 1869, printed in New York during the War of Ten Years.

It is known that the first coin-shaped pieces that were minted in Cuba date back to 1741, as a result of the blockade of Santiago de Cuba by US troops during the "War of Jenkins' Ear", the need for such pieces in the absence of circulating money emerged.

Logically rusticity and a proportion in metal inferior to its value were characteristic of these artisan pieces. But it can be said at the discretion of the experts that they are the only pieces hitherto known that were minted in Cuba before the start of the activities of the Cuban Minting Company in July 1977.