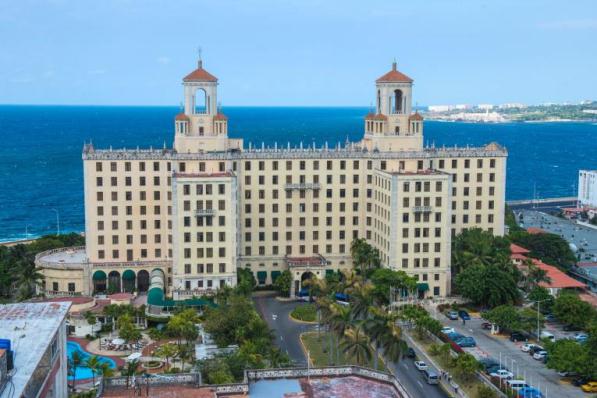 On the night of December 30, 1930, the National Hotel of Cuba opened its doors to the world. Ladies and gentlemen, who dressed in the latest in international fashion, descended from the long row of luxurious cars. The lobby becomes intoxicated with the exotic perfumes of the guests and with the famous cocktails and drinks of the great world.

Ever since that wonderful night, the National Hotel was a frequent visit by the most famous personalities of the artistic, political, cultural, and scientific, sports worlds ... as well as the great mobsters of the Italo-North American Mafia. It is noteworthy that the place chosen to build El Nacional is, without doubt, the best location. The point from where the sea is contemplated, our pier, and a site where pirates and corsairs disembarked historically and not precisely as tourists, nor in peaceful mission ...

It is impossible to relate the list of personalities who have visited the hotel. Let us remember the presence of Winston Churchill, Prime Minister of Great Britain during the Second World War, and whose surname gave prestige to one of the most famous cigars.

In the 40s and 50s of the last century, you could see the North American mafia. As happened on December 20, 1946, a "film" meeting was held, with the assistance of the main mafia families in the world. More than 500 people arrived between heads, counselors, lawyers, and bodyguards. The hotel was closed for foreign and national tourists and other visitors who were not invited by the mobsters. There were Lucky Luciano, Meyer Lansky, Frank Costello, and other infamous characters from the world of crime. Even Frank Sinatra who was "the voice" that enlivened that unusual encounter.