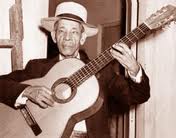 The political song in Cuba was born in unison with the first cries for freedom. Since the early nineteenth century, popular folk singers sang décimas (it refers to a ten-line stanza) and quatrains, and improvised verses in which the desire for freedom was present.

Amongst the folk singers who fought for independence, two notable figures returned to Santiago de Cuba once the war of 1895 was over. One, from the eastern area, where he remained throughout the war fighting against Spanish domination, and another who arrived from the Dominican Republic, a territory where he was exiled because of his outstanding cooperation with Cuban revolutionaries. They are Juan Ferrer and the famous Sindo Garay.

When Juan Ferrer felt the presence of the United States on Cuban soil, he took the guitar and composed some verses whose lyrics has survived to this day, but not his music.
Cuba, your children cry
because they see your ruin coming,
You will always be
the most worthy and you will get lost.
The time has come
to be able to see you;
You already got rid of the tyrant,
do not let yourself get caught,
look at the American
he is watching you,
my Cuba since I was born.

It is not a perfect verse; let us remember that those patriots did not have the opportunity to study grammar, as many were illiterate.

In those times, Sindo Garay, who had been in exile in Santo Domingo, returned to Santiago de Cuba where, with a group of folk singers of pro-independence ideas, established the first club of folk singers.

Then came the time of the bolero. Sindo began a tour through villages and cities. One day he reached near Caimanera in Guantánamo. He was astonished and indignant when he saw another flag waving. There, on a steep mast, was not the flag of the lone star. For this and more, he composed:

You cannot live like this, no, no, no
You cannot even treat the most infamous prostitute like this
It cost us so many tears of blood
to get out of this filthy mud in which we were
To sell its value at such a mean price
We ended up like this...
and we are getting lost
and the American is laughing...
By Juan Blas Rodríguez