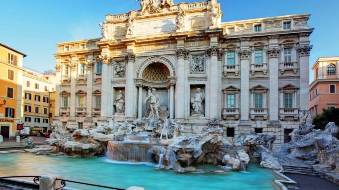 The Fontana di Trevi (Trevi Fountain) is the most monumental fountain in Rome and one of the most beautiful in the world.

Of the hundreds of fountains that are found throughout the city of Rome, the most famous, visited and photographed is, undoubtedly, the Fontana di Trevi, which is magical for its beauty and for the illusions it holds under its waters as a wishing fountain.

It is the most emblematic fountain in the whole city and is in the heart of Rome, just behind the Palazzo Poli. Its location in the small square of Trevi makes it look more splendid and completely impresses the visitor because its location is completely unexpected when it suddenly appears among the narrow adjoining streets.

The word Trevi is derived from the phrase Tre Vie that means three ways, which could make reference to two facts: that the fountain is located at the meeting point of three main streets of the city and that before the construction of it, there were already three mouths through which the water flowed since the time of Pope Nicholas V.

The construction of the current wishing fountain of Rome, one of the main monuments of Italy forever and ever, dates back to 1732 and all the works were carried out by a local architect, Nicola Salvi, who died in 1751 and it was Giuseppe Panini who was commissioned to finish it officially in 1762.

The fountain occupies the entire minor facade of the palace of the Duke of Poli, it is 20 meters wide and 26 meters high. Taming the Waters is the name of the iconography represented in the fountain, in which a perfect conjunction between water and rock is contemplated.

Pietro Bracci was the creator of the central statue, Neptune. The artist plays with the lights and shadows on the main figure framing it under a triumphal arch and surrounding it with columns. Neptune appears flanked by the statue of the Abundance that carries a basket loaded with fruit, and by the Salubrity in which it is appreciated how a snake drinks from its glass. On the three, we see bas-reliefs that evoke Roman times and the origin of the aqueduct.

In front of the Trevi Fountain, we can see how two newts guide the winged horses that drag the shell on which Neptune travels and make a conch sound so that it makes its way to the God of Waters.

The most popular legend around the fountain is that of the coin so that if you have your back to the fountain, hold a coin in your right hand and toss it over your left shoulder will ensure that you will return to the city, and at the same time, you can ask for a wish. This tourist attraction is very visited, so every year the city hall collects a lot of money from the fountain that is used to subsidize various public services such as restaurants for people in need.