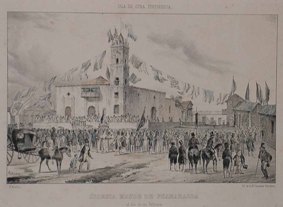 Havana replaced the capital of the largest Antillean archipelago in Santiago de Cuba in 1551, when Governor Gonzalo Pérez de Angulo moved and it remained as the official residence of the Colonial Government.

Guanabacoa, 10 kilometers to the east of the bay of our capital, was a town of Indians. Years later the threat of the attack on Havana by the French pirate Jacques de Sores took place.

Governor Pérez de Angulo did not think twice and fled with his councilors and took refuge in Guanabacoa, leaving the capital and its neighbors at the mercy of the looting and burning of the merciless corsair.

The stay of the Spanish Governor in Guanabacoa lasted six months of the second half of 1555, during that time, the legendary Guanabacoa was really the capital of Cuba. Perhaps from that unusual historical event the famous phrase of "putting Havana into Guanabacoa" was born, that is what I think...