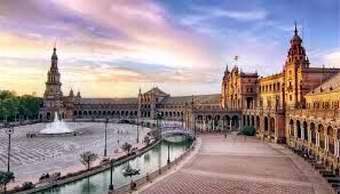 There are phrases, sentences, and sayings that we have heard or said on multiple occasions whose origin we do not know and that very seldom we have stopped to ask about its origin ... or the cause of the origin of those expressions that accompanied our grandfathers, parents and continue forming part of the usual vocabulary. For example, the following phrases come to my mind: "He who goes to the fair, loses his chair", "anything and everything can be said on paper", "put the blame on someone else", "walls have ears", "the cobbler should stick to his last"…

Here I explain the origin of the first of them, he who goes to the fair, loses his chair:

It indicates that he who does not pay any attention or is unconcerned about what belongs to him, he can lose it. This phrase has its origin in times of Enrique IV when it was granted the archbishopric of Santiago de Compostela to a nephew of the archbishop of Seville, Don Alonso de Fonseca. And as the kingdom of Galicia was greatly altered, the elect believed that taking possession would cost him great work; he asked his uncle for help and the latter agreed that he would go to Santiago to pacify Galicia and that his nephew remain in the archbishopric of Seville.

Don Alonso de Fonseca restored calm in the revolt diocese of Santiago de Compostela; but when he tried to undo the barter with his nephew, he resisted leaving the Seville chair. The Pope and the King had to intervene so that the "nephew" would release the chair. From which it is deduced that the absence harms, not to that one who went "to Seville", but to that one who left it. And that the old phrase misrepresents the facts.