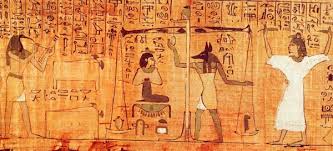 At the time of the Egyptian empire, the pharaoh was the only male who could have several legitimate spouses. But they had different categories: for example, those of lower rank nourished the harem to the satisfaction of the sovereign. Only a few women, who with all certainty had a family connection to the pharaoh, were real queens, usually they could be buried in small subsidiary pyramids built next to their husband.
Also in the ancient world, marriages and divorces were regulated purely by financial contracts, established by the couple. Women had the same rights as men before the law, and could inherit, conserve and dispose of their property without consulting their husband. In addition, he could not impose any type of limitation in the way of dressing or exhibiting their charms. So we can imagine how the jealous and male chauvinists of that time would suffer.
In fact, the sage Phahhotepl (2400 BC) came to realize that showing the semi-nude bodies of women posed a risk to the conjugal or emotional stability of males. It seems that some of them were upset with their wives when they considered themselves entitled to walk like the legendary Eve through the streets of Egypt. Just imagine, if this kind of warning was made, it was because it was allowed!