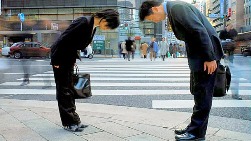 Contrary to Western custom, tipping in Japan is a sign of bad manners, for it is an insult to them, since they consider that the person who gives a tip seems superior.

That is why in the Japanese archipelago is not mandatory, nor it is expected that customers will leave a tip. Moreover, if they leave some coins in the tray of change, they will believe that they were forgotten. Also, they do not accept the money in the hand.

In the same way, they greet each other with only a slight nod or with a slight bow. This is a gesture of humility and respect for the other person. Even out of respect, they do not stare at their interlocutor.

This signal is accentuated as more social difference exists between both parties. Nor do they usually shake hands (except in meetings with Westerners), since physical contact is discourteous and unhygienic.