Our Spanish ancestors bequeathed to us many phrases. Thus, the Spanish-speaking people use colloquial expressions that have accompanied us throughout the centuries. This is the case of: "before the Flood" and "watch out!"

The first of the locutions is taken to refer to a very old time, and is related to a certain María Castaña, who in the 14th century her husband and two of his brothers were leading the People's Party of Lugo, in Galicia, where they were resisting the payment of the taxes that the bishop, as a great lord, imposed, a resistance in which there was no shortage of excesses, abuses and violence.

The fame of this brave woman extended to the region, spreading throughout Spain and became legend, accompanied the Spanish emigrants who settled in the lands of our America.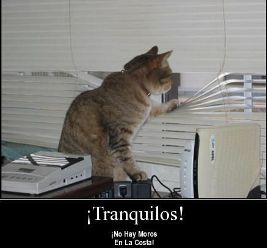 The expression "watch out!" Warns us of the precaution that must be taken by the close or immediate presence of someone before whom it is convenient to silence or disguise words or actions. This cautious expression originated in times the coast of Spain were attacked by assailants and invasions of Berbers and other nationalities.

In order to respond to these constant attacks, parties of horse riders, which were called coast guards, were organized. To the cry of alert ¨watch out!¨, the population and the guards knew of the proximity of the danger and acted accordingly.