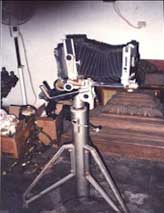 Accepted as a striking scientific and technical advancement after its discovery in France in 1839, photography represented in its beginnings the achievement of one of the greatest desires of the human race, the reproduction of the surrounding reality with the greatest fidelity possible, and man as part of it.

First photographers in Cuba

The first photographers in Cuba were foreigners, who introduced the invention into the nation. Canadian, Italian, French and other photographers arrived in Cuba. In addition, others came from the United States, such as Charles D. Fredricks, who was first established in 1857 at 98 Obispo Street.

However, Esteban de Arteaga was the first Cuban photographer, announcing himself as professor of daguerreotype and importer of devices and chemical reagents; he used to make portraits and landscapes.

Some photographers ventured to travel in a wagon with heavy equipment and an assistant to portray corners of the city or rural landscapes. They also began to capture events that occurred in the community such as fires, campaign masses, landslides and other events of social interest, starting a new specialty: informational and documentary photography.
One of the most important news stories of this period was made by photographer Esteban Mestre on Saturday, August 8, 1863, when Captain Domingo Dulce and his entourage posed at the end of the official ceremony of the demolition of the Wall of Havana.

This scene was thus recorded for posterity thanks to the photograph and reaffirmed with it that a great work, which was constructed with admiration and applause was also demolished between applause and euphoria two centuries later. It was the first time that a ruler of Cuba posed in public for a photographer.

The first photographic study in the greater Antillean archipelago was that of the American George W. Halsey. He began to work in January 1841, on the roof of the Real Colegio de Conocimientos Útiles, in Old Havana. It is considered to be the first public photographic study of Cuba and Latin America, for that reason Ibero-American Photographer's Day is celebrated every year on that date.

War photos

There is a large collection of war photographs found in almost all collections and some of Valeriano Weyler's Reconcentration are at the José Martí National Library.