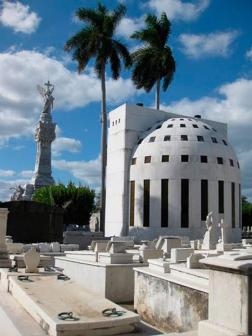 The most luxurious pantheon of the Cemetery of Columbus of Havana, which was built at a cost of half a million dollars, keeps the embalmed remains of a beautiful Cuban woman of the early twentieth century, who was the protagonist with the great love of her life of one of the most stormy and exciting stories in the Cuban capital of the 1920s.

Perhaps for this reason, the girl has on her chest a bouquet of a kind of flower created with her name, and executed with precious stones by someone who loved her so much that he ordered to be buried standing in front of her in a concrete column, to watch over the eternal dream of his beloved, ordering before dying, closing for eternity the majestic pantheon.

Catalina Laza came from a wealthy family, and she was awarded prizes in beauty contests and married to Luis Estévez Abreu, son of Luis Estévez Romeo, first vice president of the Republic of Cuba, and patriot Marta Abreu. Juan Pedro Baro, a rich landowner, who was able to build for his beloved one of the most beautiful and sumptuous mansions that adorn Paseo Avenue, right between the streets 17 and 19 of El Vedado. The mansion was opened in 1926, and it was covered with Nile sands and yellow marbles, which was her favorite color.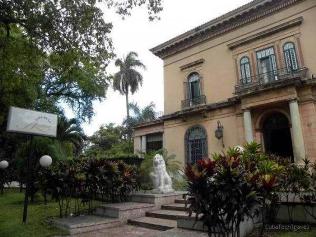 They met, they loved each other. Catalina asked for a divorce, but her husband refused. The Havana high society was scandalized and they say that during a concert at the National Theater, when Catalina and Juan Pedro arrived, the assistants got up from their seats and left, the orchestra continued playing for the two lovers. At the end of the concert, Catalina shed off her jewels and threw them on stage to the musicians, in a gesture of loving gratitude.

Accused of the crime of bigamy, they had to flee the country. They toured Europe in disguise and with the names changed. They did not stop until they visited the Pope, who in an admirable gesture, annulled Catalina's previous marriage. The president Mario García Menocal approved the Law of Divorce in Cuba in 1918, and that same year the official divorce between Catalina and Luis Estévez was registered.

In order to show his love for Catalina, Juan Pedro made her a unique gift: The flower growers of the Félix garden created a flower as he imagined her, a harmonious, soft, delicately pinkish and yellow rose. Today this rose symbolizes them and has gone down in the history of Cuban floriculture with the name of its inspiration: Catalina Laza. This is a story of much love and also a lot of legend.