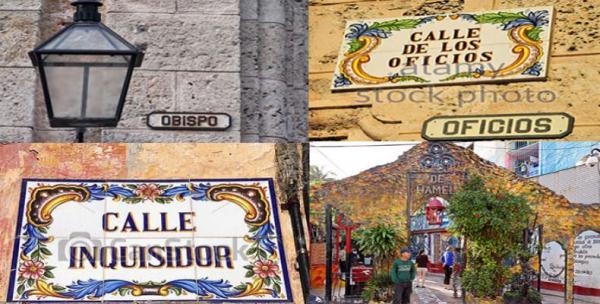 As in many parts of the world, the origin of street names almost always brings a story. Here we present the origin of some streets of the Cuban capital that are interesting, curious and surprising.

Aguacate: It owes its name to the existence of a leafy avocado tree in the garden of the Belén Convent. Those avocados were sold at reasonable prices to avoid divine punishment.

Inquisidor: It owes its name to the infamous inquisitor Don Antón Claudio de Luz, who lived in it. It was really a soft job because, as far as I know, the Inquisitor never found sinners or heretics who deserved the holy punishment, probably because officials and ecclesiastics feared that the holy fire would start at home.

Teniente Rey: it was named after Lieutenant Governor Félix del Rey who lived there.

Tejadillo: because there was a tile roof house on that street, which was not common in those days, it seems that thatch roofs were more fashionable.

Mercaderes: Because many merchants lived on that street.

Lamparilla: Because every night a man hung out a lamp of oil, and they said it was for the souls of purgatory. Would that lamp be thrifty?

Águila: A merchant put on the door of his tavern a beautiful painted eagle and hence its name, luckily it only occurred to him to paint an eagle, and... If it had occurred to him to paint a vulture? ...

Campanario: it was named after the belfry of the parish church of Guadalupe, which no longer exists, and those neighbors who like to sleep in the morning appreciate it very much.

Oficios: Because many artisans lived on that street.

Corrales: It is the place where the Railway Station is today, and where there were pens for pigs.

Perseverancia: It owes its name to the perseverance of the builders of Havana streets, during 1818, given the complicated layout of the same.

Trocadero: In 1823, this street was called León de Oro. When the French took the Trocadero de Cádiz fort, it was given that name. The fort that they lost in Spain was rescued on a street in Cuba; something is better than nothing.

Jesús María: In 1753, on the Calle Real de Jesús María, now Revillagigedo, a chapel was erected to Jesús, María and José, that named the famous neighborhood.

Lealtad: In 1881, Don José María Morejón y Rojas established a cigar store with the name of Lealtad, the streets Lealtad and Salud meet on that corner.

Amargura: it received that name due to the pilgrimage of the Vía Crucis in remembrance of the martyrdom of Jesus.

Tulipán: El Cerro was distinguished by the high production of varieties of flowers, including many exotic ones, such as the tulip that gave name to its busy street. Today it is distinguished by a true farmers' market complex, where you can have some natural fruit juices that are true gifts to the most demanding palate.

Baratillo: it was formerly called Villa Alta. This street joins the Armas and San Francisco squares. It takes its name from the amount of cheap goods sold there.

Acosta: it refers to Félix Acosta y Rieza, an alderman who fought the British invaders, a similar event occurs on Aguiar Street, a council member who also fought the British.

O'Reilly: It owes its name to the fact that Spanish General Alejandro O'Reilly made his entry when the British withdrew. To enter when the British had gone, that is not funny, to enter when the British were here, that was the thing, and the rest is pure theater.

Cuarteles: For the existence of two barracks: the San Telmo and the Artillería Diaria.

That is all for now, but we promise to come back with more stories.