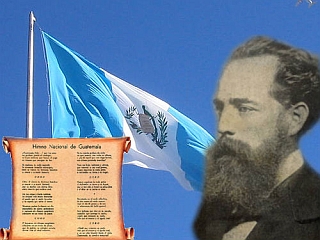 Heavy thunderstoms rumbled all through the night in which the Cuban poet and patriot José Joaquín Palma wrote the poem 'Guatemala feliz', which eventually became the national anthem of that Central American country.

Ana Méndez, who is Palma's granddaughter, was told this by her mother, América Ana, one of the daughters of Bayamo poet, who exiled in Guatemala from 1872 until his death on August 2, 1911.

According to América Ana, her father told her he wanted to write that poem when it was thundering, during a storm with lots of lightning in the sky. Just one night, in wintertime in Guatemala, it began to thunder, there was a very strong storm, Palma inspired, and 'Guatemala feliz' came out.

In 1896, there was a contest for the creation of the national anthem of Guatemala. Palma decided to send his poem anonymously, because the call was only for Guatemalans. Nevertheless, curiously and surprisingly, the government invited him to join the panel of judges, so it was impossible to refuse to be part of the selection board of the competition.

When the time to vote came, he excused himself and abstained, a friend of his observed this and questioned why Palma had done such a thing; then the young Cuban poet said, in a very confidential manner, that the anonymous lyrics of the selected anthem was his, and made him swear to never tell the truth.

Such an event, said Ana América, remained secret until the death of José Joaquín Palma when his friend reported that Palma was the author of the anthem of Guatemala.

Upon learning this, they prepared a tribute on July 23, 1911; so there was a parade of schools, also with a government delegation, they took a laurel wreath to his house. He died 10 days later.