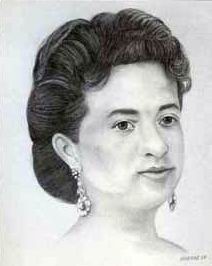 The beautiful soprano and educator Amalia Simoni Argilagos was one of the Cuban singers, who during the war for the independence of Cuba, knew how to combine her professional vocation with the patriotic sentiments she had. She was born in Port-au-Prince, Camagüey, on June 10, 1842. She studied music in Paris and Rome, as well as English, French and Italian.

On August 1, 1868 she married Ignacio Agramonte, who was one of the greatest figures of the independence struggle against Spanish colonialism, with whom she marched to the insurgent camp during the War of 68. She was caught and taken prisoner, and the general Spanish offered freedom and pardon for her and Agramonte, if she would write a letter to the mambí chief inviting him to abandon the struggle and accompany her abroad. The Camagüeyan brave replied: "General, first cut my hands, before writing to my husband asking him to betray the country."

Subsequently, Amalia went into exile where she received the news of her husband's death. At the end of the war, she joined the Junta Patriótica fighting for the cessation of US intervention and the Platt Amendment. Amalia Simoni died on January 23, 1918. Her remains remain in the cemetery of Camagüey, fulfilling her desire.