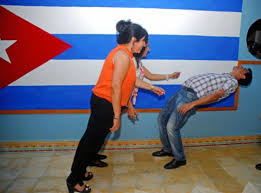 The Casa Insólita was opened in July 2015 in the Cuban province of Las Tunas. Within the local framework of the Imagen Project, at the beginning of 2013, the architect Domingo Alás managed to popularize his idea until it became a material fact.
Nowadays, as part of the patrimony of the Empresa Comercializadora de la Música y los Espectáculos Barbarito Diez, the Casa Insólita shows extravagant phenomena that defy gravity based on science.
Unusual houses are enclosures in whose interior it is possible to perceive sensory phenomena that, in appearances, are located at the antipodes of the principles of universal gravitation. There are few in the world, and not with the same name.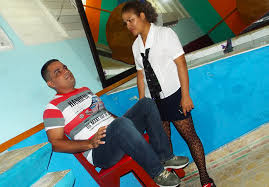 The building stands in a peculiar way, which is appreciable to the naked eye from the outside, as a foretaste of all the singularities that will be seen inside it: the wave that never falls, consisting of a pond of approximately 20 thousand liters of water whose surface is tilted as if it were a wave stopped in time; the deranged hydraulic channel that transports water upwards; a chair that supports its hind legs on a ledge of the wall and leaves the front ones in the air, without its occupant falling to the ground; a pool table whose legs are of different sizes and still can play perfectly because nothing hinders the normal course of the balls; a sofa from which it is impossible to stand up without receiving help.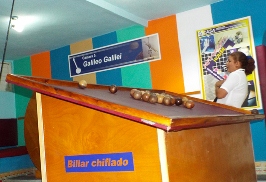 The project does not use cutting-edge technologies but is based on the ingenious application of physical experiments to create optical and other illusions, according to its creator. There are not tricks because the perceived phenomena are legitimate optical illusions, which are generated thanks to the 20 degrees of inclination with which the house was built.
The building also includes other spaces for culture such as a 3D screening room and a patio for the presentation of magic shows, as well as gastronomy services.
The Casa Insólita or Antigravity House is the only one of its kind in Cuba, in just one month after being opened, it received around 15 thousand visitors from Cuba and the world, who visited it to better understand some laws of Physics and Optics, at the same time that they could have fun with the absurd postures that their bodies adopt when walking inside the house.