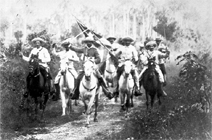 Where did the word mambí come from? It is used to denominate the insurgent who fought heroically against the Spanish domination.

That same word, as a noun or as an adjective, was used by the authorities and other reactionary elements, at the time of the colony, as synonymous with something very bad: traitor, abominable, enemy, evil, and son of bad guts...

There are many and varied versions of the origin of that word. The scholar Antonio Bachiller y Morales (1812-1889), in "Cuba Primitiva" considers that the voice comes from Santo Domingo, where it was popularized during the revolution against Spain, and he adds that in the indigenous language of Brazil it means "ear" and they called the wild and big-eared beasts with the word mambí.

Fernando Ortiz only says that the qualification of mambí applied to the Cuban insurgent against the Spanish domination.

Juan Luis Martín, in 'Papeles cubanos', states that where only the mambí root could be found was in Africa and "it is the bad guy, the one who acts against the moral law, against the conventional". Moreover, the demonstration is in the Bantu vocabularies, which come to confirm these conclusions. And he adds: "For us, mambí means bighorn."

In the magazine "Vida Universitaria (March-April 1968), it is pointed out that the word mambí means in the Congo lexicon dirty, repulsive, vicious, abominable, harmful, vile, and cruel man.

The Spaniards began by qualifying the Dominican insurgents with that pejorative term, and then they assigned only those of Cuba. He adds: "Well, back in 1869, when Ignacio Mora y Pena founded the newspaper El Mambí in Guaimaro, they had awarded him a glorious interpretation and from 1876 to attribute it was even sanctifying."