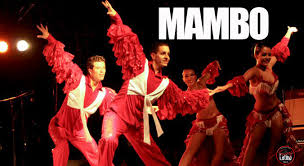 The mambo is a Cuban musical genre for dancing, singing or listening, in a beautiful instrumental. Its origin is quite controversial, because it has several parents and step-parents.

Everything seems to indicate that it had its roots in the so-called "new rhythm" from the famous orchestra of "Arcaño y sus maravillas", and of which the musician Orestes López took several elements and created a danzón which he called Mambo, an African word, specifically from Congo.

It is possible to continue debating the genesis of the term, what has no discussion is that the "King of the Mambo" was a Matanzas resident named Dámaso Pérez Prado. The creator of "Mambo No 5", "Al son del Mambo", "Caballo Negro", Mambo No. 1","Tequila", and "Rico Mambo", the first that made him famous, along with other titles with which he successfully traveled the world; many of which we could hear in several films.

Regardless of the mambos, Pérez Prado created the rhythm called "Dengue", which had an ephemeral life but composed several anthological musical themes, I must remember, amongst other works of indisputable value for its extraordinary beauty: "Patricia" and "Suite de las Américas."