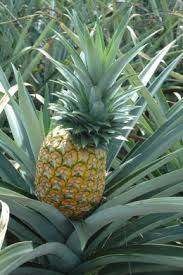 The pineapple plant originates from the American continent, specifically in the Upper Paraná Basin, i.e. between Brazil, Paraguay and Argentina.

Commercially, it is not advisable to exploit its perennial character due to the decrease of the quality of the fruit as the number of harvests increases.

Although native to the tropical regions of South America, this plant is currently cultivated in dissimilar warm climate zones; Its flowers are violet, it grows approximately to 70 centimeters, is extremely showy and has long fleshy leaves that arch outwards, from the center, arranged in such a way that they avoid the loss of water.

The pineapple has minerals such as potassium, magnesium, calcium, iron and sodium, as well as vitamins A, C and folic acid, and although the contents of these nutrients are not really as emphatic as in other fruits, it is important to mention its active compound: bromelain, which is an enzyme so powerful that it is able to digest approximately a thousand times its weight in proteins, and from which we can get 87 milligrams in 10 grams of fruit.

It is very helpful for circulation because this component dissolves clots that can form and thins the blood. This is a good way to avoid circulatory problems such as thrombosis, heart attacks, and strokes and, at the same time, lower high blood pressure or hypertension.

Amongst its benefits are the diuretic action that facilitates the evacuation of urine, helping those with kidney, bladder and prostate problems, and also contributes to the elimination of toxins via the kidney.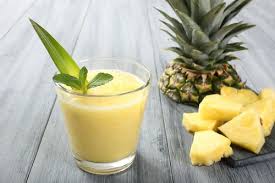 It is very digestive and contains a significant amount of fiber, it is recommended to avoid constipation.

Also, the pineapple juice has some antiseptic power, so it is believed to aid in throat and mouth inflammations.

Doctors recommend eating pineapple before meals stimulates gastric secretion, so it prevents indigestion.

Other qualities are that it helps to deflate in cases of hemorrhoids. As it deflates and helps to evacuate fluids. Naturist treatments indicate it in inflammatory processes, edemas (accumulation of liquids in some region of the body) and when there is fluid retention.

Its efficacy has been observed in the prevention and treatment of the dreaded cardiovascular complications of diabetes, which sometimes require limb amputation.


Medicinal properties of pineapple:

It increases digestion because of an enzyme called bromelain. It is digestive, increasing the metabolism of different nutrients. It improves protein digestion. It helps weight loss, it is considered a negative calorie food. This is because the body spends more calories in metabolizing it than the calories it provides. It helps lower bad cholesterol and triglycerides, because of its high fiber content and antioxidants. It prevents cardiovascular disease. It is anticoagulant. It is anti-inflammatory. It is used to treat sores, wounds. It is useful for bronchitis.