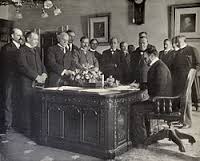 Although in numerous history texts it is stated that December 10, 1898, the day on which the Treaty of Peace between Spain and the United States of America was signed in Paris, marks the end of the war between those two states, that assertion does not have foundation from the formal legal point of view.
The Treaty - as stipulated in Article XVII - must be ratified by the contracting parties for its entry into force, and the exchange of instruments of ratification took place in Washington on April 11, 1899, so the state of war between Spain and the United States formally ceased on the last date, as stated by William McKinley in that day's presidential proclamation.
In this way and in correspondence with the Law of War, an integral part of Public International Law, the two belligerent states put an end to the war that confronted them at the end of the 18th century, ignoring one of the most important contenders, the Cuban nation, thus beginning, an era in which the United States negotiated with other states matters concerning Cuba without at least hearing the opinion of the Cuban nation.
The Spanish sovereignty did not want any other solution than the delivery of Cuba to the United States. And this was expressed by the Duke of Almodóvar del Río, the Spanish Minister of State, in a note dated July 28, 1898 to the Ambassador of Spain in Paris to be delivered to the French minister for the purpose of his transfer to Cambon, a representative of France in Washington, by noting:
"Spain is ready to accept the solution that pleases the United States absolute independence, independence under the protectorate or annexation to the North American
Republic; preferring the definitive annexation because it better guarantees the security of lives and haciendas of the Spaniards."
In short, with bad intentions and treachery, the so-called "mother country" preferred to give us to the powerful Uncle Sam, the same who had kicked and humiliated it, before admitting our right to independence, which we had conquered in 30 years of combat with blood and fire.
And they still want us to forget the genocide committed with the Cuban natives, the cruel and ruthless slavery to which thousands of human beings were subjected, the massacres of women and children accused of collaborating with the mambises, the criminal concentration of thousands of families who died of hunger in the villages and the criminal and barbarous execution of the eight medical students.