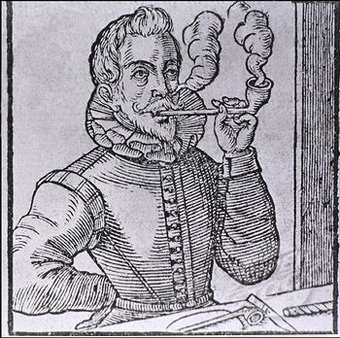 Tobacco: common name of two plants of the Solanaceae family grown for its leaves that, once cured, are smoked, chewed or insufflated in the form of snuff.

It is an original plant of the American continent, the natives of the Caribbean smoked tobacco using a cane in the form of a pipe called tobago, from which derives the name of the plant. Apparently they attributed medicinal properties to it and used it in their ceremonies.

Its origin is located in South America and its cultivation spread throughout the Antilles and other regions of the continent before the Discovery. It was taken to the Old World after the fifteenth century.

A controversy remains even on who carried or introduced the tobacco in Europe, however there is no doubt that those who discovered it were Rodrigo de Jerez and Luis de Torres - the two sailors of the expedition of Christopher Columbus - and that back in 1492 they found it in Cuba, near Gibara, on the banks of the Caonao River.

Historians have not agreed on the arrival or introduction of the famous Havana cigar in the old continent, some say that it was Rodrigo de Jerez himself, others think that it was Fray Roberto Pane, other names are also mentioned, but the one that really took the fame was Juan Nicot, ambassador of France to Lisbon, who introduced it to Catherine de Médicis, and that is why they called it "Grass of the Queen", until Linneo established the genus Nicotiana in honor of Nicot.

In Italy, they called it "Hierva de la Santa Cruz", in honor of the Cardinals Tornabona and Santa Croce who generalized their use in the Italic lands. Throughout history, tobacco has had powerful enemies, but also great friends, great defenders and detractors.