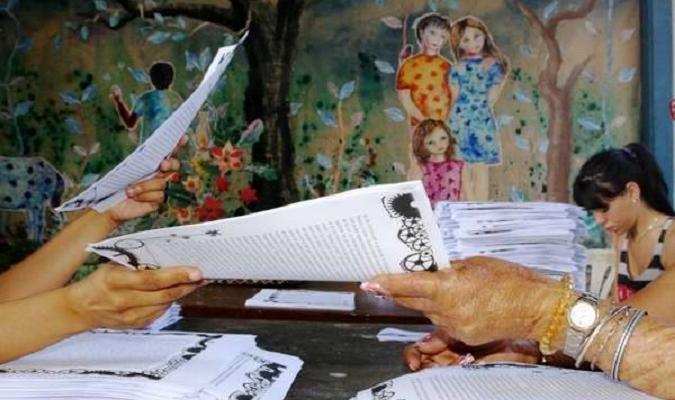 A good translation can save a text, a bad can sink even the best of lyrical compositions. Translation is an art and through it culture is conceived as a dialogical space, both within and between itself and the other cultures of the world.

Translation consists of understanding the meaning of a text in one language, which is called source text in order to produce a text with equivalent meaning in another language.

A cultural exchange between Matanzas and the United States has taken place during these last 15 days, with a project that fructified in the translation of works of nine poets in that Cuban province.

In that effort, a group of students from the University of Houston, Texas worked, and succeeded in translating from Spanish to English several works by Cuban poets of the most recent generation.

The outstanding project denominated 'Cuba traducida' was part of a summer course of the American university and was done in collaboration with Ediciones Matanzas, in whose headquarters the translation workshops took place.

The poems translated belong to nine writers born or resident in the city of Matanzas, they are: Laura Ruiz Montes, Alfredo Zaldívar, Israel Domínguez, Yanira Marimón, Leymen Pérez García, Abel González Fagundo, Maylan Álvarez Rodríguez, Delbys Domínguez, and Daniel Cruz Bermúdez.

According to local media reports, University of Houston professor Mabel Cuesta, who has been in charge of this project, has been very satisfied with the results and the experience gathered by her students.

The young translators who carried out these practices study different courses of studies, amongst them are Spanish, journalism, education and engineering, in addition there is one student who is aspiring to the degree of Master and another to the Doctorate.

The professor added that during these two weeks the students exchanged fruitfully with the poets whose works were translated, as well as with other writers, editors, designers, artists and they toured several cultural institutions and historical sites of Matanzas city.

Within this program of collateral activities was the talk about translation by Laura Ruiz, and that of Agustina Ponce, who is the director of Ediciones Vigía, about this emblematic institution.

Also of interest was the workshop for editing and book manufacturing by Rolando Estévez, who is the editor of the El Fortín Publishing House.
The project 'Cuba traducida' was sponsored by the University of Houston, the Cuban Ministry of Culture, the Cuban Book Institute, the Dirección Provincial de Cultura and the Centro Provincial del Libro y la Literatura of Matanzas.

"Si no lo hago ahora", a poem by Maylan Álvarez Rodríguez (Unión de Reyes, Matanzas, 1978). He has obtained recognition in the journalistic work. He received the 2011 Calendario de Poesía Award with his book 'Naufragios del San Andrés'.

If I do not do it now
It is because there are too many people in the hall
And there might be some gossip
About the new neighbor
And the delay of the meat for medical diets
And the goddaughter of the yabó that does not fulfill her mandates
And if that guy is available
And if I cannot eat the loaf of bread today
And what a tremendous price reduction
And why she is lingering in the bathroom
And I want to hear and please at the same time
But who can focus
With so much first-hand information.

"Los que no tiene H. en la zona franca'', a poem by Leymen Pérez (Matanzas, 1976). He has published the books 'Números del escombro' (2002), 'Pared con grabado de Pollock' (2004), 'Hendiduras' (2005), 'Transiciones' (2006), 'Corrientes coloniales' (2007), amongst others. He has won numerous prizes such as Regino Pedroso, the creation scholarship 'Prometeo' of the Gaceta de Cuba'. He works as editor-in-chief of the artistic and literary magazine called Matanzas. His creations have appeared in various publications of the young Cuban lyric, as well as in several anthologies.

Groove against groove. I watched the chatter
Of a bird that was once a small sun
An image talking to us through the very women of Víctor Manuel.
He wrote to Helios under the fragile columns.
Metal against metal.
Our faces also had marks.
Outside: Free zone and many symbols. Some chips close to my hands. Other suns formed in my hands on the right side. It is all jail in this land, Martí said. Everything hits like a shadow. Do not leave me in this silence.
I wanted to draw a homeland, a firm place.