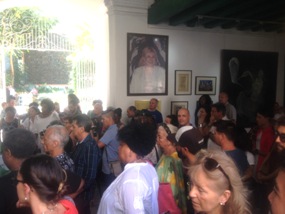 In one of the most colorful surroundings of Old Havana, very close to the bay and in front of the Basílica Menor del Convento de San Francisco de Asís is the Carmen Montilla Gallery. Today it livens up its image with the exhibition Exquisitez femenil, by the ever surprising Yudit Vidal Faife, an artist who has come from the city of Trinidad together with 20 craftsmen who make up the project Entre hilos, alas y pinceles, which is designed and directed by this remarkable creator.

This third collection is composed of 11 pieces and five sculptures that draw the dreams and passions of the young creator, who graduated from the University of the Arts, and amasses about 40 personal and collective exhibitions, as well as recognitions, amongst which are that of the Universal Peace Ambassador, conferred by the International Circle of Peace Ambassadors based in Switzerland and France.

"Yudit weaves the golden time through the rivers and mountains of Trinidad, that amazing village that never ceases to amaze us at every dawn when a group of craftswomen string the threads of fortune, the fabric of luck, caracolillo majorero knitting, ojito de la perdiz and so many others that seem picked out of the peasant imagery and the popular collection of proverbs abundant in those places," said art critic Nelson Herrera Ysla at the opening of the exhibition.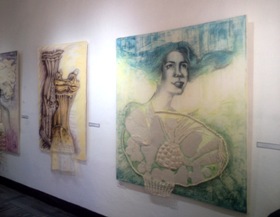 "We owe her the continuity of the story and the strength of the present that weaves and weaves, and sticks and sews endlessly in her hands," says the remarkable curator and visual artist.

The handicrafts, which legitimize the craftsmanship of Cuba's third villa, survive modernity and are a challenge to time and memory. In the pieces presented and starting from the art of lingerie, the artist applies her work to new supports and techniques.

Exquisite pieces highlight woman as the central theme of the exhibition, which exhibits as an added value videos of Yudit during the full creative process in her studio-workshop.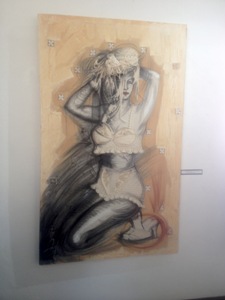 The threads interweave female silhouettes that give way to elements of recurring utility amongst women. Shoes, purses, kitchen utensils and household goods reappear to present a Cuban woman, of these times, worked paradoxically by hand and traditionally, but with a challenging contemporary look, the artist herself stands out in the catalog.

Before a large Cuban and foreign audience present at the opening of "Exquisitez femenil", Yudit thanked Doctor Eusebio Leal, Historian of Havana, the craftswomen of the project, Herrera Ysla and Norma Jiménez, who is the director of the Carmen Montilla Gallery; and she dedicated the display to Mother's Day, which Cuba celebrated last Sunday, May 14.

Last Friday there was an exchange of experiences amongst craftswomen from Havana and Trinidad, with the application of embroidery, fabric and openwork, the techniques of lace trimming, crochet fabrics, techniques of frivolité, and miñardi. Thus, between weft and warp, they will keep alive a tradition inherited from generation to generation.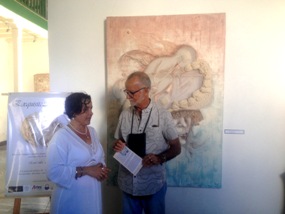 Until June 10 the public will be able to enjoy these excellent works by an artist proud of her roots and committed to enhancing the Trinidad identity and authentic textile tradition.

Thanks to Yudit, the craftswomen and the village of the Holy Trinity, the third of Cuba, which in its 503 years continues enigmatic, intact, with its stately mansions, churches, parks and always open to receive Cuban and foreign visitors who arrive to admire its architecture, cobbled streets, its culture and natural beauties. Photo by Deyvi Colina Echeverría