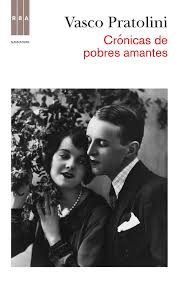 Chronicles of Poor Lovers (Cronache di poveri amanti) by the writer Vasco Pratolini is a masterpiece of Italian neo-realism that was released on May 4, 1947, exactly 70 years ago, and with it the author began his career as a remarkable writer, both in Italy and abroad.

It is set in 1925 and 1926 in Via del Corno, a proletarian street of Florence between Palazzo Vecchio and Santa Croce, and the first years of fascism as a background.

Through the stories of its humble inhabitants the lives of all of them interweave by opening to hope and love.

In a review that I read to write this material, it is said that this beautiful novel by Pratolini never mentions the word Mussolini. A correct statement.

However, the novel deals with a poor neighborhood in Florence in the 20s, in the middle of the fascist regime. The author starts from the conviction that the story is not reduced to a chronological inventory, but requires the "revitalizing" exercise of the lives of its characters.

In "Chronicles of Poor Lovers" the name of Mussolini is not pronounced once, nor are complex philosophical speeches made, but fascism is spoken of from beginning to end. It is simply a matter of following these humble characters -a sweeper, a typographer, an ex-whore, a charcoal burner, and to observe how they survive within a politicized and divided Italy, through all sorts of social and ideological conflicts.

Pratolini, who suffered the most extreme privations as a child, gives us a double exposition, both real and psychological, of the conditions in which the residents of the dilapidated street of Florence, Via del Corno, live.

The invitation of Pratolini in this novel is to stay a while in this street, and accompany its inhabitants in what they do daily. It so happens that, although everyone lives within the same space, each one has its own vices, customs and pretensions, and thus, while some are swept along by the discovery of love, others are inscribed obligated in the Fascio; while they mix stones in the charcoal to earn more money, those on the other side spy from their window the movements of their neighbors.

The only scheme that Pratolini follows is the mixture of stories: one night, for example, implies making a tour through a good part of the characters, because only thus, from the particular portrait of each circumstance, an extended vision of what happens is achieved.

However, despite this level of equality from which it seems to be the story of the characters, there are some names of greater importance in the novel. We have the case of Maciste, a blacksmith, who was formerly Ardito del Popolo, and is now one of the most lucid members of the Communist Party. There is also Nesi, a charcoal maker, an opportunistic type who moves according to political transformations, taking profit from each moment. In addition, Carlino, an agent of Fascio, is the accountant who proudly wears his black shirt, and hits people who refuse to collaborate.

Likewise, there are "Los Angeles Custodios" - Bianca, Aurora, Milena and Clara -, the most beautiful girls of Via del Corno, all facing their problems, differences and above all, the need to escape misery through passion.

But just as it is not possible to speak of few protagonists, it is not easy to situate a single narrative plot. Chronicles of Poor Lovers is, as its name suggests, many stories interwoven on a page, and the union does not create a new plot, but is simply the union of many plots. Organizing the whole novel is absurd because, although it is true that there are some privileged chronicles for their strength, at the same time that these occur, many other stories are also being defined.

As you can see, everything is intertwined, each chronicle is united with the other, and to speak of a single, general chronicle would amount to reweaving each one.

Such is the difficulty to locate a general plot, and the most sensible thing is to try to establish a relation between the life of the characters and the historical events, since these are syncretized indissolubly.

Broad and diverse as the work that seeks to renew the literary universe must be", "Chronicles of Poor Lovers" is a bold portrait of fascist Italy. Pratolini is a just narrator in his language, he does not give or remove in excess, and therefore his novel has the full meaning of things.