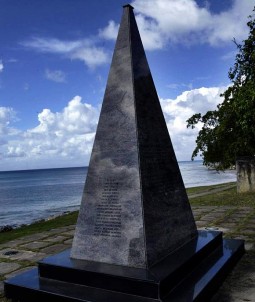 It is ironic and even cynical to suggest to Cubans any thesis related to the forgetting of their history, more if it houses events that have left a colossal mark of pain in their lives, as did those that occurred on October 6, 1976.
On that day, Cubana de Aviacion aircraft 455 took off from Barbados Island to Jamaica, heading to our capital, however, the trip could not complete due to the destruction of the plane in flight, taking the life of 73 innocent passengers, including members of the national fencing team, who successfully competed in the IV Central American and Caribbean Championship of that sport, based in Caracas, Venezuela.

From there, historical evidence has proved that it was an abominable organized crime under the direction and ruse of two notorious terrorists: Orlando Bosch (1926-2011) and Luis Posada Carriles; the former was arrested and subsequently tried and acquitted after alleged legal defects; while the second is still at large, despite the rosary of crimes that bear the mark of his authorship.

Nine days after the sabotage, the Commander in Chief Fidel Castro Ruz (1926-2016), during the farewell ceremony of mourning for the victims, held at the Plaza de la Revolution, described the incident as a "brutal act of terrorism" and proclaimed from the rostrum that our athletes would be eternal champions in our hearts, for their gold medals they would rise as suns without spots and as symbols in the firmament of our country.

"An increasingly revolutionary, dignified, more socialist and more internationalist homeland" (Applause) would be the great monument that our people erect in their memory, and that of all who have fallen or have to fall for the Revolution! (Applause)"

"We cannot say that the pain is shared. The pain multiplies. Millions of Cubans today weep with the loved ones of the victims of the abominable crime. And when an energetic and virile people weep, injustice trembles!"

On the 41st anniversary of a tragedy that continues unpunished, Cubans continue to demand justice from the pain caused to the families of victims of state terrorism; and in respect of them this Friday, the traditional pilgrimage in the Cristobal Colón Cemetery is carried out in Havana, as well as a political-cultural event, in the noon hours, from the Cerro Pelado Higher School of High Performance Athletes.

For most of the deceased, whose remains lie today in the abysmal depths of the ocean, our past is strength and guidance in the present and future, so at the suggestion of some that forget our history, the answer is clear and simple: we have memory."