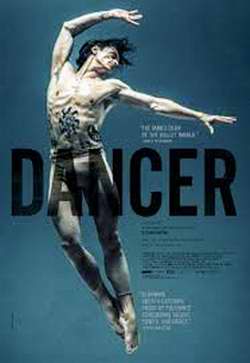 If you like dance you will like this documentary. If you marvel at what the human body can do physically, you will enjoy this film creation. If you want a human story on sacrifice in the quest for perfection, you will rejoice with this visual work.

You may not know the name of its protagonist: Sergei Polunin, but it is most likely you have seen him dance. Last year, a video of Polunin dancing to Hozier's hit "Take Me to Church," directed by David LaChapelle became viral on social networks accumulating more than 10 million views on YouTube in two months.

Dancer is a British documentary by director Steven Cantor, which narrates the overflowing life of Sergei Polunin, a child prodigy who was born in Ukraine from where he left to become one of the most brilliant dancers of the present century.

Sergei was born in a family of modest means in the south of Ukraine, without any influence of the art and as a child, he was very restless and enrolled in the gymnastics, and later his mother chose the ballet.

From the age of eight, Sergei Polunin was destined for ballet and because of his extraordinary talent, his family made enormous sacrifices: his father went to Portugal and his maternal grandmother to Greece to financially support his ballet studies at the Kiev Choreography School.

The mother saw the progress of her 12-year-old son in that art and one day decided to film it by making some of his variations, a recording she sent to the British Royal Ballet School in London, where the boy got a scholarship for his training.
From then on, the great story of this talent began, who, at only 19 years old, became the youngest principal dancer in the history of the Royal Ballet of London.

The press called him the Rudolf Nuréyev of the 21st century and the public reserved his performances up to two years in advance, nevertheless when he was 22 years old, Polunin resigned to one of the most important companies and left the Royal Ballet to return to Russia, where he had to start from scratch until he hit back to success.

However, Sergei's life took a 180-degree turn when two years later, at the height of his career, certain events led him to resign and threaten to abandon dance forever by questioning his existence and commitment to art at the same time that he became a legend worldwide.

The film features footage on Polunin's childhood, footage filmed by his parents, as well as interviews with family, friends and colleagues, and pictures of his current life on and out of stage.

Dancer is a work that not only seeks to extol the figure of the artist but rather the director delves more into the person, after presenting how good he was at what he did. He goes in and researches his insights, how he felt, his tiredness and general dissatisfaction.

Dissatisfied by the simple fact that he cannot be a normal human being, a normal teenager and then a normal twenty-something, his actions were simply called rebelliousness, but he was just something typical of a normal person, what was his problem? All the weight that entailed being a star.

It is an outstanding and visually spectacular documentary work, which I recommend you to see if you have the possibility.