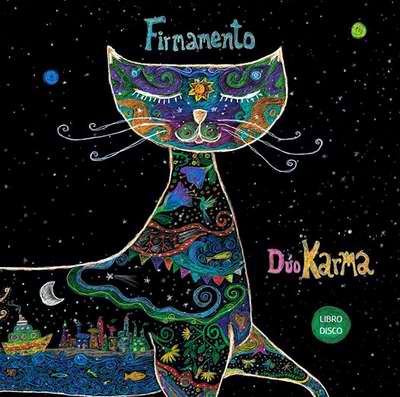 Sweet and tender as everything they do, but for all ages, that is their music. Finally, and good! We have in sight a new record production of the Duo Karma. Cuban musicians Xóchitl Galán and Fito Hernández have announced on their social media that their latest record "Firmamento" is ready and available ... and then everything is ready to reach for the stars.

Each of the adventures of this fabulous guitar and voice duo, where traditional, folkloric and minor percussion instruments are mysteriously sneak in, is always a journey to childhood, to memories, to the wonderful real life, and now, they invite us to find new horizons, new universes.

On this occasion, after five years of absence after their great work on the CD entitled "¡Vámonos de viaje! The musicians release "Firmamento", a record-book production under their own record label, Mundo Sonajero. It is their third production for the little ones at home and it is thought for and intended for the children, yes, the children that we all keep inside.

The productions of the Duo Karma convey joy, positive energy, make you vibrate and attract the attention of children and adults to the small beautiful things of life and nature, that fabulous micro-world, as defined by the artists themselves. This time, the proposed trip points to the stars, to enter a magical adventure away from home.

Curiosity and humor are two basic components to join the proposal of "Firmamento" from its Track 1 "Abre la ventana", which seeks precisely to get rid of ties and walk through our imagination.

Songs full of fantasy such as "Camaleón", "Arbolito del Otoño", "Universo" and "El sombrero de Lunares" also stand out for their poetic beauty and original sound composition. Silvio Rodriguez joined this adventure accompanying the Duo in the piece "Firmamento", which is the title track.

In the new project, Karma is consolidated in the fusion of Cuban and Latin American rhythms and sounds, a magnificent work that they have gradually developed during the last few years. For that reason, perhaps it is not surprisingto include sones, chachachás, congas, calypsos, songs of rituals, all mixed with elements of rock and roll and other genres, accompanied by outstanding voices.

"Firmamento" also has the peculiarity of being a book-record, in which the artist Xóchitl Galán illustrates the songs helped by the design of Fito Hernández. In this way, Karma offers us a more complete sensory vision of their infinite magical world.

The record was made with the support of talented Cuban musicians such as the clarinetist Janio Abreu, the tresera Enid Rosales, the percussionist Yaroldi Abreu, the trumpeter Thommy Lowry; Gastón Joya on the bass, Franqui Corbea on the ethnic percussions and santur, Alejandro Aguiar on the timbales and Yuniet Lombida on the saxophone.

Settled in Argentina for some years, the duo formed in 1999 has brought the music for adults and children. They have also composed music for contemporary dance. With their songs, they have covered a large part of Cuba and other countries such as Spain, Venezuela, Colombia, Mexico, Brazil and Argentina.