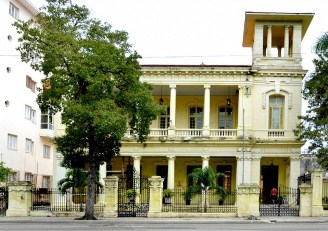 José Pedro Roig lived in Vedado, Havana in 1914. After his death, the large and elegant mansion passed into the hands of the heirs of his family. As early as 1936, the house belonged to Las Damas Isabelinas de Cuba (a Cultural Association of the Catholic Church). Since then, the home was the scene of varied cultural activities and soon its space was extended by annexing the plot of land of a neighboring house.
With the Triumph of the Revolution on January 1, 1959, the big house of Línea y D was designated as the headquarters of the Cuban Movement for Peace. However, its constructive deterioration, together with the fact that it was located in a privileged place in the city, led to it being routed on more luminous roads.
Because of the founding of the ALBA (Bolivarian Alternative for the People of America, today Bolivarian Alliance for the People of America-Peoples Trade Treaty, ALBA-TCP) on December 14, 2004, Fidel Castro and Hugo Chávez conceived joint cultural plans among member nations.
In February 2006, an intergovernmental agreement was signed in Havana and the ALBA Cultural Fund was created. At the beginning of 2008, in the context of its VI Summit, the ALBA Cultural Grannational Project was approved.
A year later, just on December 13, 2009, the President of the Councils of State and Ministers of the Republic of Cuba, General of the Army Raúl Castro Ruz, met at the historic house of Línea y D; the Venezuelan president, Hugo Chávez Frías; Nicaraguan President, Daniel Ortega, and other personalities. There, the Casa del ALBA in Havana was founded, as part of the Grannational Project and with the supreme objective of promoting the best of Latin American and Caribbean culture, especially that of the member countries of the regional organization.
Since then, this institution is part of the Ministry of Culture of Cuba and becomes a space of exchange between intellectuals, artists and the public in general that validate the slogan of the entity: "A space for all."
In this sense, the following goals are maintained: "the development of a program aimed at providing broad access for the population to artistic presentations of music and the performing arts, film screenings, exhibitions of visual arts and crafts, conferences, courses, workshops and book presentation''. In addition, it facilitates "the creation of socio-cultural action networks in coordination with their counterpart institutions in the member countries of ALBA, encouraging participation in them by artists, intellectuals and professionals or personalities from other sectors."
With this purpose and for the sake of celebrating its eighth birthday, the Casa del ALBA has proposed a special day of celebration in December.