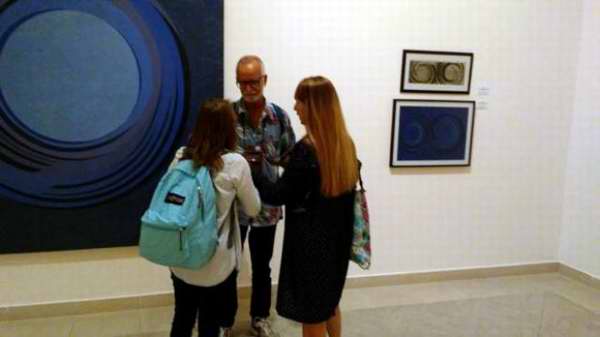 Always attached to the sea in his creations, there is no better way to remember Luis Martínez Pedro (Havana, 1910-1989). Paying the necessary posthumous tribute to a great creator as this 20th century Cuban is a commitment of the National Museum of Fine Arts (MNBA), which has materialized in the fabulous exhibition entitled "Mar-tínez Pedro. El agua por todas partes."
The Temporary Room on the Ground Floor of the Universal Art Building of the MNBA exhibits for the first time a large part of the most relevant work by the painter, mostly belonging to the funds of the Museum and the Council of State.
His vast creation is impossible to contain, however, the institution has managed to make a comprehensive sample, which offers a multidisciplinary and holistic vision of his artistic paths and summarizes the painter's work on the subject of the sea.
A prolific painter and artist born in Havana, and a professor of art schools, Martínez Pedro was also one of the first and most relevant exponents of concrete art in Cuba, as well as one of the most outstanding in the region.
Odalys Borges, who is the co-curator of the exhibition together with Israel Castellanos and one of the main researchers of the work by Martínez Pedro in recent years, made it clear during the opening of the exhibition:
"We owe him this tribute, which does not intend to repeat the retrospective held in 1987. Now we unify a broad concept linked to the sea since he is generally known as the painter of Territorial Waters".
Drawings, paintings, ceramics, photographs, personal documents, catalogs, press reviews, literary texts and musical compositions guide the audience through the transcendental episodes of his professional life.
Previously, the book "Mar-tínez Pedro. Revelaciones was presented in the Hemiciclo of the MNBA Building. The volume is part of a very complete research that the historian Odalys Borges has conducted for two decades on the figure of the emblematic creator.
The text contains the essence of the exhibition that now remains open to the public. It is also in his book "Revelaciones", where the researcher manages to bring together all the stages of this artist, which deserves wider dissemination.
According to the specialist Roberto Cobas, who was in charge of the opening remarks on "Mar-tínez Pedro. El agua por todas partes", "The book is transcendent because it is the first serious and complete approach to one of the most important figures in Cuban visual arts. This artist had not had such a research, only articles, and reviews. A book that will remain as an artistic bibliography for the next generations."