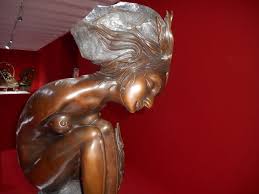 The work of Pedro Pablo Oliva, who possesses genuine insight and critical wit, moves within the narrative, the anecdotal, from a prism that captures the subtleties of the different edges of human behavior. The exhibition titled "En cuerpo y alma, Bronces" is a three-dimensional tour through his pictorial work.

For these pieces, as the entire work of Pedro Pablo Oliva, there is no accurate adjective that qualifies them, since it is somehow the qualifier and much more - it can be intelligent, magisterial, unsettling, and magical - because his work is categorically unusual and genuine.

Although some people may argue that this production is not new in its personal conception, it is transcendental in the "mysterious enigma of volume," as the author has pointed out.

Through this secret, the artist grants his canvases the opening to the surface of the cast bronze, that is, towards the three-dimensional, a fact that gives, through his characters and settings, an invitation to the public to "share illusions and despair," said one of the curators of the sample, Isabel Maria Perez.

Similar to the figures of his canvases, the 17 sculptural works that are exhibited at the Wifredo Lam Contemporary Art Center are a journey that the spectator will undoubtedly want to make.

Self-referential by antonomasia, Pedro Pablo Oliva reveals to us his capacity as a chronicler of his time, this is already proverbial and is located in his work as a distinctive feature, and that approach of immediate reality is without subterfuge, aided by the personal codes that support his vast visual production.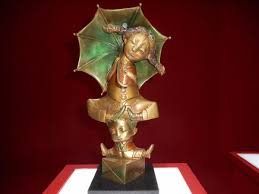 "I have always tried to link my life a little with creation. (...) It seems to me that in daily life, that daily, that of conflicts, that of contradictions; it is precisely the topic and germ of not converting the work into a daily repetition," reveals the artist about his intentions.

The exhibition "En cuerpo y alma'. Bronces" by Pedro Pablo Oliva features the museum design by Enrique Martínez and Ricardo Sánchez, and a curatorship shared with Silvia Oliva Sainz and Isabel María Pérez.

The visual artist Pedro Pablo Oliva (Pinar del Río, 1949) graduated in the National School of Art in 1970, after his studies at the Provincial Art School in Pinar del Río - a city to which he remains linked, despite his workshop being in Havana.

According to critics, Silvia Oliva Sainz is indebted to teachers of universal art such as the expressionists James Ensor and Edvard Munch, and the visual poetry by Marc Chagall. Although it permeates the nutrient sap of relevant Cuban professors such as Antonia Eiriz and Servando Cabrera Moreno, who left an intense mark on the students of that time. Combined expressionism and pictorial lyricism are reflected in his artistic work.