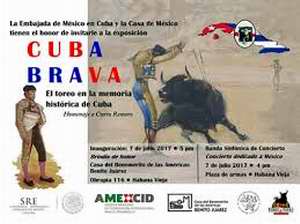 "I think bullfighting is the most cultured party in the world," said the great Spanish poet Federico García Lorca, a genuine defender of this popular expression and who would be very pleased to be able to attend the exhibition "Cuba brava: el toreo en la memoria histórica de Cuba", which opened at the Casa de México in Havana's Historic Center.

"We have reproductions of emblematic works," said Dr. Javier Villaseñor Alonso, who is the cultural attaché of the Mexican Embassy in Cuba," such as Tauromaquia by Francisco de Goya and Lucientes, some of his engraving facsimiles and those pieces in a dialogue with contemporary artists, who are certainly inspired by the art of the fierce bull, an ancestral animal that has many symbolic connotations."

In addition, the official stresses that they wanted this art to be made by Cuban creators, and with that intention, they invited two very important visual artists: Moisés Zarza and Nelson Villalobo Ferrer.

"Zarza has previously worked on bullfighting," said Villaseñor Alonso," and he sent several pieces that illustrate the fate of rods and history, because they collect details of Cuba in those same works, there are certain paragraphs that tell of the bullfighting practice on the island."

"The other very important artist - who has done much of his work in Spain - is Nelson Villalobo Ferrer, who expresses himself in formats as dissimilar as canvas, engraving and drawing. Also, there will be a performance by that artist that will do it there, and it has to do with the bullfighting art", she said.

Likewise, a small format sculpture by Humberto Peraza, one of the most important Mexican sculptors, is added to this exhibition.

On the genesis of the exhibition "Cuba brava: el toreo en la memoria histórica de Cuba", the director of the Casa de México in Havana, Miguel Hernández said that "the idea arose approximately two years ago because a Mexican bullfighter -Rodrigo Galguera-, came to Havana. He came with the intention of seeking information about bullfights in the Caribbean nation because he had some reference that in the nineteenth century bullfights had taken place here."

The famous bullfighter even knew of the existence of several bullrings in the city of Havana, according to Hernández, who explains that there were at least five in the perimeters of the city and two in Regla, with quite large dimensions because one of them held up to 10 thousand spectators and that of Regla up to 6 thousand.

"Rodrigo came with the intention of seeking information for the writing of a book on this subject," said the director, "and proposed that an exhibition be also held to recall the historical memory of bullfighting in Cuba and to speak at the same time of that practice not only in the Aztec country, but in other Latin American nations such as Colombia, Ecuador and Venezuela."

"His proposal seemed very novel and this was another link with Mexico because the first bullfights were made in Cuba and then Mexico also assumed that custom and Hispanic tradition. In the 1950s, Cuban television broadcast bullfighting programs from the Plaza México, which were filmed one day and the cameraman arrived the next day and then broadcast them on Cuban television. This exhibition ¨Cuba brava: el toreo en la memoria histórica de Cuba¨ is the result of this research and that relationship between both nations," said Miguel Hernández.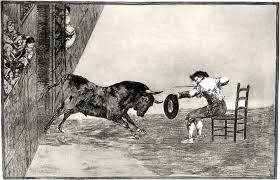 The bullfighting festival is intimately linked to its ancestral, traditional and popular aspect, and that is why culture due to its relevance has always covered its historical course. Bullfighting has been portrayed by artists such as Francisco de Goya and Lucientes, Pablo Picasso, Édouard Manet, Enrique Simonet, Alberto Gironella and Lucas Villamil, as well as in pasodobles by the famous Mexican composer Agustín Lara.

Other staunch admirers of bullfighting were the Generation of 27, creators who wrote, painted and sculpted on this bullfighting party. It is worth mentioning the words with which Federico García Lorca expressed his open support and taste for bullfighting: "Bullfighting is probably the poetic and vital wealth of Spain, incredibly untapped by writers and artists, mainly due to a false pedagogical education that we have received and that the men of my generation have been the first to reject it."

A large number of writers from various countries have exalted bullfighting as an important part of the soul of their nations. Amongst the live artists who defend bullfighting are Colombian sculptor and painter Fernando Botero and the Mexican sculptor and painter Humberto Peraza.

Bullfighting is an exercise in multiple understandings, and can be admired or criticized, but its components, already cited, allow it to endure over time and generate abundant debate and enjoyment around it.