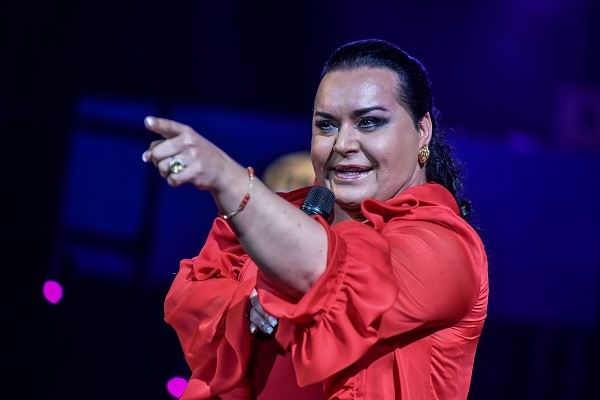 When Spanish artist Rafael Ojeda, Falete, performed before the Cuban audience invited by the XVIII Fiesta del Tambor, the Karl Marx auditorium gave him back a warm 'Te Quiero', after the artist, an international icon of copla, bolero and tonadilla, radiated with his voice the anthological theme by Nino Bravo that is part of his repertoire.

Giraldo Piloto, who is the main craftsman and President of the Festival that pays tribute to the memory of the great percussionist Guillermo Barreto, highlighted that "many people have asked us for the assistance of this consecrated artist since we decided to pay tribute to Spain. Falete is, in fact, one of the most admired and beloved artists in Cuba. We are very happy to be able to fulfill the wishes of our public and of everyone who will be able to attend an unforgettable night.''

With his exceptional voice, Falete is a charm not only on the stage. He is an artist and an incredible communicator, his essence conveys love, passion, dedication...and half an hour was enough for the Cubans present in the stalls and balconies (which were many) to make the artist feel "at home". But nobody resists this show of affection and admiration without committing to return to Cuba.

"The previous time was very short, but I left with so much love that I said I have to return no matter what and I was very lucky that in this tribute to Spain I am just one more participant of the Festival (Fiesta del Tambor).

"I don't know when I'm going back, but I do know that I'm going back to Cuba, because when a bond is born and it's such an authentic and true bond, where there are more and more interests, and there's truly a soul on both sides, these things always come back and I hope that it will be very soon, if not in the rest of the year, it will be next year."

Falete had sung here a few years ago, and then had no idea that his music was known on the island and even admired. After receiving the love of about five thousand people then, his return now was a great success. This Thursday, the singer, who owns one of the most expressive vocal registers of Spanish music, the audience gave him a standing ovation after half an hour of performance.

In a concert full of symbolism, Falete sang some of the songs that make up his most recent record entitled 'Prefiero ser así' (2019), which includes classic songs from Spanish songs by authors such as the great Rocío Jurado, Nino Bravo, Juan Gabriel and Raphael, among many others. His performance at the Karl Marx Theater provoked cheers by opening with the song 'Lo siento' and then the classic 'Te quiero', as well as the iconic 'Quiero ser lo prohibido', improvised together with the Sevillian pianist Laura de los Ángeles.

"I've just recorded this CD to be release in spring and I'm still on tour in Spain; in October I'm going to Argentina, I have to go back to Miami, Puerto Rico is pending, so I'm going around the world, promoting the CD and singing a lot, which is what I like.''

An artist who gives everything on stage, because as he has said many times to the media "I don't like to sing, I like to tell. A lot of people know to sign well, but very few of them can tell stories."

Falete debuted as an artist at the age of 17 at the Teatro Lope de Vega with La Chunga.

"For me it is a tremendous honor that I've been chosen to participate in this beautiful Festival and to be able to enjoy my artists from Spain and obviously the artists from here. It's my second time on this land and when I came here for the first time I remember saying to the person who came with me on the plane, ''I have to go back because I've left a lot of love that didn't fit in my suitcase anymore and that's what the Cuban people have given me."