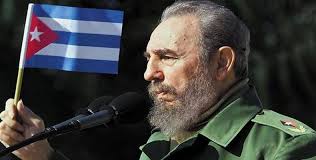 In beautiful symbolism, which was accompanied by a sea of people, a year ago since Fidel sailed again on the Granma yacht heading to the East. It seems that the beginning of that journey to eternity occurred minutes ago, because his presence beats in every corner of Cuba and the planet, he remains very much alive in the heart of every Cuban, and we still remember him with sincere tears, the result of a feeling sown in the deep by the imperishable traces of everything that bequeathed his values, thought, and act.

Fresh in the memory of Cubans and friends of the world are those sad days during his passage through almost all of Cuba, taking with him "a bouquet of flowers and a flag", as Martí also wanted, simply because, several times, Fidel himself resumed Martí to ensure that "all the glory of the world fits in a grain of corn."

Always in moments like these, Martí's legacy is remembered, in whose prose stereotyped reflections and sentences of extraordinary validity flourish, whether written or spoken at all times. On one occasion, he pointed out: "The greatness of a man is not measured by the ground that his feet occupy, but by the horizon that his eyes discover", and in that beautiful phrase it is gathered what has been and is the undisputed leader of the Cuban Revolution, the unbeaten Commander in Chief, the invincible, optimistic and genial man of his people who sowed confidence in the future of the Homeland, and reviewed the dangers that threatened humanity.

It is common to say that great men do not die, even if they disappear physically because they survive in their works and in the example of their lives. It is known that when we talk about Fidel we think of such terms, because he devoted his fervent youth and almost his whole life to advancing his people and helping others in the world. His excellent oratory, ability to call and power to convince are tools that will have to be retaken again and again to continue carrying out the Revolution and defend the dreams that also traveled in the Granma with him and many others, and that today continue to be the fight flag of the current generations.

Moreover, Fidel was much more, because, according to the outstanding Cuban journalist and writer Katiuska Blanco Castiñeira, "Fidel is an ocean" due to "his immense depth of thought and ideas, and his tireless battle in the face of strong northern winds against him."

For that reason, and for many other reasons, the grateful accompany him.


Sources: razonesdecuba.cubadebate.cu; article by Patricio Montesinos.