A journey of a thousand miles
starts with a small step.

Chinese proverb.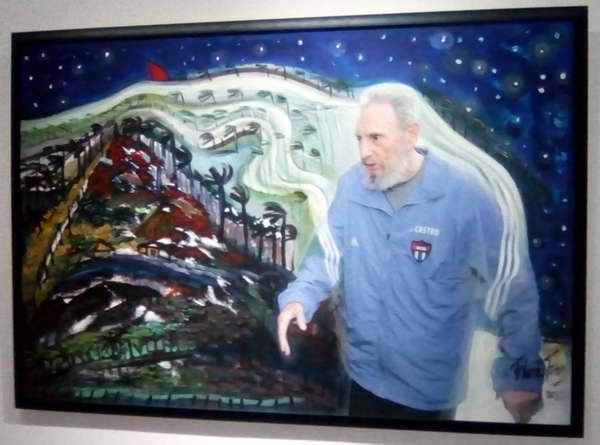 Flora Fong is a renowned contemporary visual artist in Cuba, and those who approach her professional career will be able to confirm that I speak of one of the most magnificent Cuban painters, with a trademark in teaching and her way to dialogue with canvas and brush to give safe refuge to nature that she loves fervently.

She was born on November 8, 1949, in Camagüey and perhaps because she is the daughter of a Chinese father and a Cuban mother, she portrays in her work the Asian perseverance and exclusive Caribbean charms.

She has been one of the sixteen privileged artists to be called in order to intervene photographs taken to the leader of the Cuban Revolution, Fidel Castro Ruz, by his son, photographer Alex Castro. Exclusive pieces that were achieved with excellence making up the exhibition named, YO CUIDO, these days open to the public in the gallery "El reino de este mundo", at the José Martí National Library of Cuba.

The expressive strength in Flora's artistic discourse is unique. She defends her mood and in every mix, stroke and color, her visual language denotes exclusivity. Flora's work has its mark and identity. It is beautiful and lyrical; its palm trees, flowers, banana plantations, and roads dance in harmony with nature, and nature is one of her inspiring deities.

Her biographers say, "from Chinese calligraphy she renewed the freshness of the lines and balance in the composition of her works and words like the wind, rain or forest were transformed into hurricanes, mountains and Latin American living nature." (1)

For this exhibition, which is a tribute to Fidel, the artist pays homage to the great leader, dialogues with his work and triumphal path from the Sierra Maestra, but I prefer that it is Flora Fong herself who tells us, in an exclusive interview with Radio Enciclopedia Radio, how her creative process was to reach this exhibition YO CUIDO, and what it means to her.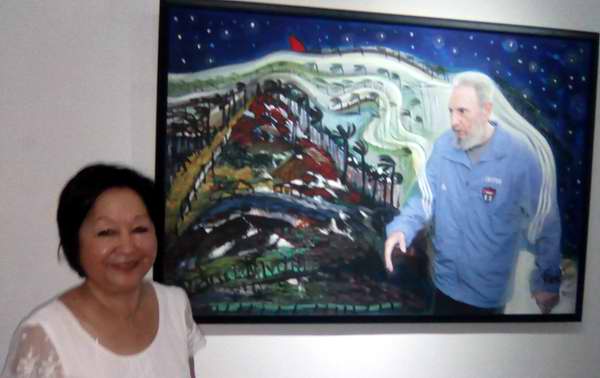 "This exhibition has been an opportunity for me to be in direct contact with the image of Fidel, because it is to intervene a photograph of him. In my case, it went beyond that simple photo and with great tenacity, I evoked the Sierra Maestra with all the palm trees, vegetation, starry sky, the love for nature, which I also fee,l and wanted it to be there, along with the love that I felt for him as well.

"Fidel was a person who devoted himself to a great cause, the cause of the proletariat, the noble cause of the humble and managed to transcend time, the borders of Cuba. That is why with great respect, I always remember him and feel that this exhibition brings us closer to Fidel, closer to the artists. It is an exhibition that could be shown many times to continue to evoke with respect and love that figure who is our beloved Commander in Chief."

- The artists were called for these interventions and then did you select the photograph to intervene?
"The visual artists were called and they delivered the photos to us, in my case, I did not select the photograph to intervene, however, when I saw the snapshot, that is the photo I worked with, I thought of a Chinese proverb by the philosopher Lao Tzu , (2) and was able to visualize a path, Fidel's path.

"I always remember the Chinese proverb that says, 'A journey of a thousand miles starts with a small step', and really here in the finished work we have Fidel's path, that of the Sierra Maestra, and that journey up to the present time, something that is still in force, and even on the personal level I think that when people draw a path, a project, they first think about it, they become aware of it and then they mature and carry it out. Fidel found his path. Fidel did it well."

- Do you consider that even after his death the path achieved by Fidel is endless?

"I think so and it is very important that we talk about it because I think that his path has proven its worth, the value of his contribution and I ratify it when I see the events that happen every day in the whole world.

"I am telling you that right now I am reading a book about Fidel and the Flora Hurricane - a meteorological phenomenon that bears my name - and I am really very impressed to recognize and ratify in Fidel his proverbial courage, humanism, the model of his behavior, that example that he always was. The Commander was, is and will always be the Commander."

Music and general culture embellish Flora's talent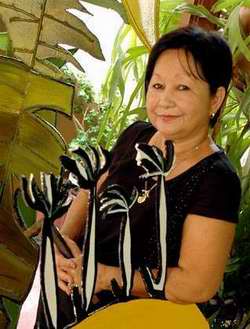 Back in 1970, when Flora Fong graduated from the National School of Art of Cubanacán, long before she had graduated from the intermediate level in the Provincial School of Visual Arts in Camagüey in the specialty of painting.

Along with painting and drawing she has managed to articulate her creations with sculptural works, stained glass and fabric design, she is also recognized for the creation of aesthetic kites with oriental techniques.

The critics and followers of her work, amongst whom I include myself, recognize in Flora virtuosity, elegance, sensuality and full tenacity.

What may not have been said before, as far as I have studied about her life and professional career, is that Flora Fong is an admirer or faithful listener, as we use to say in the radio slang, of Radio Enciclopedia, and I was told, some of her artistic works were born while listening to Radio Enciclopedia.

I take her kindness in this interview to corroborate this hypothesis: "Is it true that you paint and listen to our radio station... have you ever felt inspired by our programming?"

She smiles, and all the time we talk and look at each other without hesitating: "Yes, of course, I listen to Radio Enciclopedia and even from my student days in Camagüey; I really enjoyed Radio Enciclopedia. I have always liked it. It is the station that accompanies, reassures and cultivates me. I cannot say that I was inspired by the station, no, but I can tell you that I like it a lot, because besides, we should not live behind culture and music in general, so I listen to you and paint! … Congratulations! Radio Enciclopedia."