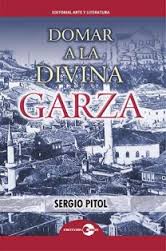 "It is a novel of extreme passions and complicated theatrical situations; it is the story of a brief trip to Istanbul that defines the life of the protagonist and immerses him in a crusade against a famous slavist, the presumed culprit of his evils and his vehement fervor for the Gogol literature.

On a stormy afternoon and without any of those present wishing to listen to his biography, marked by resentment and fiction, the hero talks in solitude until his misfortunes, melancholies and extremely paradoxical situations impel the audience to a desire to know the end of such comedy, where every solemnity is destroyed until getting the most exquisite paroxysm."

Thus the synopsis of "Domar a la divina garza" by Sergio Pitol, published in Cuba by the Editorial Arte y Literatura Publishing House in 2015, is defined in broad terms on the back cover of the book.

Personally, this volume is the one that I have most enjoyed by the Mexican essayist and narrator, and it is part of his Tríptico de carnaval as well as El desfile del amor and La vida conyugal.)

A note referring to what it is going to deal with precedes each chapter; these are the notes of an old writer, who in the second half of the sixth decade of his life, intends to write a new novel: Domar a la divina garza.

In order to write it he decides to show three fundamental themes: first "the party" (taking the ideas of Mikhail Bajtin, especially from his book "La cultura popular en la Edad Media y en el Renacimiento'', secondly "Gogol y lo carnavalesco", and third "José Rosas" (or Pepe Brozas, a nickname of the writer's friend who is an admirer of Dante Alighieri), who will be called Dante in the novel he writes.

The narrative tells of the varied adventures of Dante C. de la Estrella, a law graduate, and his trip to Istanbul, in which it is very important to have met Marietta Karapetiz, the divine heron, a great expert on the work of Gogol, who is presented by Dante as follows:

"It was nothing less than in Istanbul where I met one of the greatest fakers in history. A living fraud that said to be called Marietta Karapetiz, whom I, if I were only following her manners, would give the name of Pelagra Pelandrujovna, if you take no offense. In places of worse than dubious morality, it was known as Manitas de Seda (…) That celebrated and regular visitor of the darkest feasts, the most repulsive conviviality, and the most unbridled orgies. Nevertheless, she sailed around the world showing some strict manners of academic. The severity in person! To die of laughter! Everything about her was a farce."

As we can appreciate, Dante C. de la Estrella is a person sometimes pedantic, sometimes boastful, who disdains art, but not the strength giving money and power.

It is very remarkable in this novel the polyphonic narration, the voices that are combined in the speech, that are separated and intersect at the same time, because a narrator tells the story of a writer who intends to write a novel. In turn, the "old novelist" tells the story of Dante C. de la Estrella; and this, in turn, tells us the experiences that he has in his trip through Istanbul and Rome.

Of course, this polyphony reminds us of Bajtin's theoretical assumptions, we must bear in mind that his ideas are not only the first subject on which the novel that the "old writer" tries to write, but also that Bakhtin is interested in this interdiscursive communication in his philosophy of language.

"There is polyphony," Bajtin says, "when the text is constructed by the interaction of multiple consciousnesses in contrast to that other type of narration that is built as absolute consciousness", and in 'Domar la divina garza' is obvious, as is the carnival: the humor, the mixture of the sacred and the profane, the party, the transgression, the laughter, the eschatological, the subversive, the blasphemy, the obscene, etc.

We will find when reading this piece by Pitol: a grotesque, carnival story, with humorous situations that are shocking, but always fun. In the same way, there is a strong passion of the author for Russian literature.

It is a great novel, not easy to read, and by that I mean that it is not a work in which you cannot keep on going without stopping occasionally to link, return a few paragraphs back to resume, to reconstruct stories, but once we have finished reading it, we will definitively be captivated by his writing.

Sergio Pitol (Mexico, 1933) is one of the most important contemporary Latin American writers and an excellent translator of Witold Gombrowicz, Joseph Conrad, Henry James, amongst others.

Amongst his outstanding storybooks are 'Infierno de todos' and Nocturno de Bujara; amongst his novels are 'El desfile del amor', which won the Herralde Prize, and integrates 'Triptico del Carnaval' together with 'Domar a la divina garza' and 'Vida conyugal'. His essayistic work is composed of 'Jane Austen' up to 'Virginia Woolf', 'El arte de la fuga', 'el mago de Vienna', 'La pasión por la trama'.

For the literary work of his lifetime, he won the Juan Rulfo Latin American and Caribbean Literature Prize in 1999, and the 2005 Cervantes Prize.