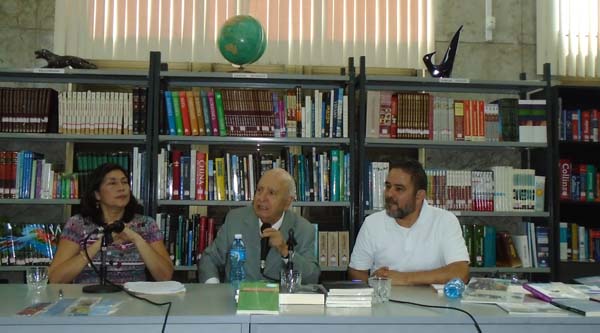 They say that in 1942 the Nobel Prize for Literature, Pablo Neruda, visited Zapotlán el Grande in Mexico, and they also say that the dinner offered in tribute to him was attended by young Mexican Juan José Arreola. (1). In those days the Chilean poet dedicated to him a copy of 'Veinte poemas y una canción desesperada', where he predicted: "To Juan José Arreola with faith in his destiny."

This is how his literary work and teaching profession elapsed, and today Arreola's literature, a Mexican academic, translator and publisher, holds a prominent space on the shelves of the José Martí National Library of Cuba (BNCJM), through three of his recently donated works to the cultural institution.

In the words of Dr. Ada Aurora Sánchez, who is a professor and researcher at the University of Colina, "Arreola visited the island twice: in 1960, when he was a judge for the Casa de las Américas Literature Prize, at the invitation of Haydée Santamaría, Director of the rising Latin American institution. Then in 1961, as coordinator of a literary workshop, which would later become mythical, such as the Malecón and Havana breeze." (2).

Back in 1918, when Juan José Arreola Zúñiga was born on September 21, and the celebration of the first centenary of his birth is proceeding from this date, the Cuban National Library and the Mexican Publishing House Puertabierta Editores, which were present in the donation of three titles: ¨Apuntes de Arreola en Zapotlán, by Dr. Vicente Preciado (3); ´una selección´. 'A personal fiction', a bilingual edition, Spanish-English, by Juan José Arreola, with translation by Ramón Elizondo Mata and prologue and notes by Preciado Zacarías; and ´Ficcionario´, also by the latter author.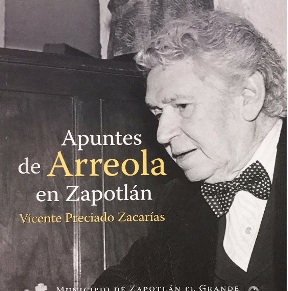 In 'Apuntes de Arreola' en Zapotlán, according to Dr. Sánchez, the author explains in a bulky 642 page book, a pleasant guide to juxtapose the moments of conversations with Arreola, also his splendid monologues with captivating resources of literary expression and "... infinite bibliographic recommendations, professorship and revelations about his creative process."

For the consideration of Professor Sánchez, the strength of 'Apuntes de Arreola en Zapotlán', "is not only in the patience of its recovery, in the unpublished data that it reveals, but also in two more qualities: it provides the reader with quotations on the circumstances under which it Arreola commented such or such a thing, and how he said it, with what expression, with what gesture, to reveal the mood of the writer and, of course, the irony that, without due context, could go unnoticed. Similarly, this book gives the reader extensive references, starting from the research, on the books or authors cited by Arreola in the years of coexistence and fraternity with Preciado Zacarias."

The following books are available to Cuban readers and researchers at the National Library of Cuba: 'Una selección personal', (Puertabierta Editores, 2016) in its bilingual edition, where we can approach the origin of Arreola's short stories, amongst other topics by the renowned Mexican writer and the specialist said, "The name of maestro Arreola leads streets, writing centers and short story contests. He also leads the canon of the fantastic story of the twentieth century in Mexico, but, even better, the recognition of an important legion of readers and critics specialists.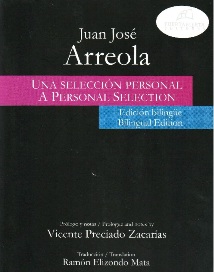 Another of the books donated to the BNCJM is titled 'Ficcionario'. 'Ensayos' by Vicente Preciado that was published at the end of 2016. This is a co-edition of the Secretariats of Federal Culture and the Government of the State of Colima, Mexico and of Puertabierta Editores, directed by Dr. Miguel Uribe.

Inspired by Juan José Arreola, 'Ficcionario' includes in its pages more than fifty essays on several authors. Amongst them are San Agustín, Heidegger, Proust, Rubén Darío, Martín Luis Guzmán and Alfonso Reyes.

In our hands, through the Cathedral of Cuban Culture, there remain these treasured books, lights of wisdom and illustrations for more fertilization of knowledge. I have not yet read them, that is why I have based respectfully on the appreciations of maestro Ada Aurora, to whom I thank her expert opinion in appreciations that increased my thirst for reading and individual study. I am going to consult Arreola, from his living fountain and from the hand of Vicente Preciado. I fervently desire to return with Neruda to that dinner, 75 years ago and ratify the faith and the prophecy of the Mexican writer's path and his literary perpetuity shortly after the first centenary of the birth.

Notes:

(1) Juan José Arreola Zúñiga was a writer, academic, translator and Mexican publisher. He was self-taught. It is said that he did not complete the studies of the primary education. He performed the most varied trades throughout his life. Arreola belongs to the generation of 50 and thanks to works such as 'Confabulario' (1952), 'Bestiario' (1959) and 'La Feria' (1963) he is considered to be one of the most important writers of the contemporary fantasy story in Mexico. According to experts and specialized critics, Arreola is one of the greatest exponents of the Latin American mini-fiction.

(2) Ada Aurora Sánchez / sanchezp@ucol.mx, in 'Triptico en torno a Juan José Arreola and Vicente Preciado Zacarías' / Full text read on June 23, 2017, at the José Martí National Library, BNCJM , on the occasion of the presentation of Apuntes de Arreola en Zapotlán, by Vicente Preciado Zacarías; una selección personal. A personal fiction by Juan José Arreola; and 'Ficcionario'. Ensayos by Dr. Preciado Zacarias.

(3) Vicente Preciado Zacarías (Ciudad Guzmán Jalisco, May 12, 1936). He is a dentist at the University of Guadalajara. He was a professor in the Faculty of Dentistry. He is an outstanding pioneer of endodontics. He developed a dental technique that bears his name. He has published research papers and lectured in various countries. His love for the written word has led him to direct various cultural magazines and newspapers, and he has published a large number of essays and literary articles. He has worked as a literature teacher and is a founding teacher of the Licenciatura en Letras Hispánicas at Centro Universitario del Sur. He is an outstanding promoter and scholar of the work of Juan José Arreola, who was his disciple and close friend. He holds the title Master Emeritus by the University of Guadalajara, and the distinction "Illustrious Zapotlense" granted by the city council of his native city.

-The author of this work for Radio Enciclopedia thanks the collaboration of Ana Margarita Bestard, who is a specialist in the Department of Promotion, Public Relations and Press of the BNCJM.