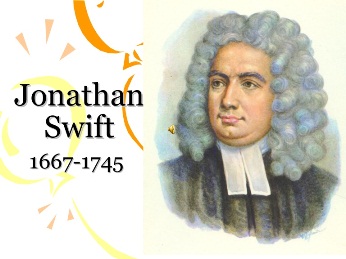 "I also want to introduce you to Jonathan Swift, the author of that evil political book, "Gulliver's Travels!", says one of the characters in Ray Bradbury's novel 'Fahrenheit 451', where books are banned and literature is preserved through the memory of a group of exiles, which aided by this resource, treasure and orally transmit the literary heritage of humanity.

Undoubtedly, Jonathan Swift was a reckless intellectual in the confrontation and satire of society and, therefore, 350 years after his birth -in Dublin on November 30, 1667-, he is considered to be the most distinguished artist of the irony in the history of world literature.

Literary researchers say that he died "insane" in 1745, but he left a work that spoke of the most profound human being, texts full of reflection and wisdom that prophesied, amongst other issues: the concentration camps and all traits of human stupidity taken to the extreme (xenophobia, antipathy, discrimination, dogmatism, religious intolerance, etc.).

According to his biographers, Jonathan Swift was never sure of his position. He was a master of invective and language that he used at will with a powerful wit, but in his constant search for promotion and ascent, in his uncertain relationship with several influential people, his position was always of inferiority, and all the more painful for his hope and belief that it would not always be like that.

He was a faithful servant, whose anger at his own servility sometimes led him to lose, to his own detriment, any notion of prudence. His peculiar imagination, through which the world can be fixed simply by turning it around, and in which reason and logic are naturally transformed into anarchy and nightmares, arose from the uncomfortable distance between his talent and circumstances.

At Sir William Temple's house, where he lived as a young man, his duties included reading his boss's voice and keeping accounts of the house. Temple's nephew, who was unpleasant, would later claim that Swift was not allowed to sit at the same table as the family.

Swift, the lonely bachelor, knew the servants very well. He made them a substitute for family and a source of great exasperation and entertainment. "I am mortally sick of firing and hiring servants," he wrote when he became dean of St. Patrick's Cathedral in Dublin.

In 1915, when his friends in London had fallen into disgrace and his personal life had become too complicated, he saw no one but his domestics. "I live in a corner of a huge unfurnished house; my family consists of an administrator, a stable boy, a stable assistant, a footman and an old maid, who work in exchange for lodging." Her new cook, whom she called 'love', was, as he wrote, "as old and ugly" as her predecessor, "because the ladies I know would not allow me to have one with a tolerable face, even if I asked for it very seriously."

When Saunders - one of his servants - died in 1733, Swift wrote: "He was one of my best friends, as well as the best servant of the kingdom." He erected a monument to him in the cemetery of St. Patrick's Cathedral in Dublin.

Swift's greatest legacy to humanity was his book Gulliver's Travels, a novel published in 1726 and although it has often been considered to be a children's work, it is actually a fierce satire of society and the human condition, which is camouflaged as a travel book by picturesque countries (a genre quite common at the time).

The book became famous as soon as it was published and its success remains to this day, for as the English poet and playwright John Gay expressed in a dedication to a letter in 1726: "to Swift which is universally read, from the Cabinet of the Council to the nursery."

This wonderful and misunderstood Irishman learned to use the English language like no other and to handle the worst human feelings for literary art.

He managed to find a style of his own that would be imitated by hundreds of thousands of writers who would find in his literary legacy a path worth imitating because Swift gives us for his time, the present and the future, the keys of the human being from the best resources of the satire and irreverence, paths followed particularly by Oscar Wilde, James Joyce, and Samuel Beckett, who admired for this ingenuity this fellow and did not hesitate to emulate him.