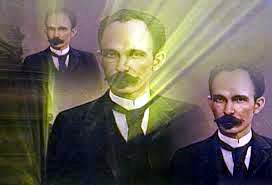 The Chilean writer Gabriela Mistral (1889-1957), in 1953, in assessing the personality of the Cuban National Hero Jose Martí said: "he was my teacher and guide (...) his thought is in me, and it forms a single piece with my ideology.'' The Nobel Prize also admitted: "I read it, read it again, read it for the third time, I fused my thoughts with it and let my soul be invaded by all Martí's ideas." He is "the purest man of our race," said Mistral.

Also, Martí found loyalty in the thought of the historical leader of the Cuban revolution Fidel Castro who described him as the intellectual author of the revolutionary actions carried out on July 26, 1953 and in the end part of his speech also stressed: "It seemed that the Apostle was going to die in the year of his centenary, that his memory would be extinguished forever, so much was the affront!". And he added:

"But he lives, he has not died, his people are rebellious, his people are worthy, his people are faithful to his memory; there are Cubans who have fallen defending their doctrines, there are young people who, in magnificent reparation, came to die next to his tomb, to give him their blood and life so that he may continue living in the soul of the Homeland." Fidel added in his statement in the trial of the events of July 26, 1953: "Cuba, what would become of you if you had let your Apostle die."

Like Fidel, the supreme leader of the Bolivarian Revolution Hugo Chávez was one of the greatest disseminators of Marti's thought. At the commemoration of the 109th anniversary of the fall of the Apostle, on May 19, 2004, Chávez reiterated the desire of Venezuela to "build the Homeland that we were robbed so many times, the country we were denied so many times."

This was how the hero of the Greater Antilles came to mind. And he would express: "May 19, 1895, a day of glory to be remembered with glory, with honor and great strength. The death of Martí (...) was a result of courage, a value bordering on audacity, temerity and glory. Martí had never fought in wars, with arms in hand, but it was he who armed the Revolution, traveled the Caribbean, even the United States, seeking support. He armed ideas and logistics and produced the union of the different movements that were in Cuba, but he had not fought, he wanted to go to fight as well. (...) I knew of Martí many years ago, I found his books in the Venezuelan barracks, see how far this Bolivarian left his mark here in Venezuela."

And recently Ecuadorean President Rafael Correa explained that "his giants" have always been Simón Bolívar, Eloy Alfaro, José Martí, Che Guevara and others whom he could meet and become his friend as Néstor Kirchner, Hugo Chávez or Fidel Castro. "We have always carried José Martí in our hearts. All my life I have been a follower of Martí's ideas, "he confessed the same afternoon that he had placed a wreath to the Apostle minutes before being officially welcomed by the president of the Councils of State and Ministers, Army General Raúl Castro Ruz.

Martí's imprint remains not only in Latin America, but also in various places. Thus, a few weeks ago the Historian of Havana, Eusebio Leal, described Martí in New York as a refined poet, a magnificent speaker and a figure capable of uniting the past and the future of the struggles for independence. According to Leal's testimony in that American city, Martí was heard on many occasions in the lodge, he wandered around the neighborhoods, wrote his most important articles and visited theaters and exhibitions. "At the same time, it was possible to find him in the places where the Cubans were. He travelled to Tampa 22 times on exhausting trips to his health, leaving plenty of signs of his passing," he added.

Through the words and thoughts of personalities of politics and culture, Martí has been remembered for centuries. Today his legacy remains, especially in times of imperial fury.