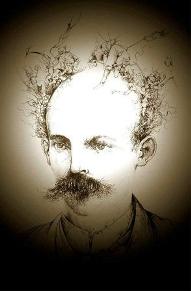 From the earliest childhood he envelops and surrounds us, not from the stony figure or the official homage, but in every glimpse of his life and work we have understood the mysterious body of the Fatherland or our own soul.

José Martí is simply and complexly our entire national and universal substance, the finished expression of the Cuban, because in the abundance of his heart and in his life he treasures the image and faith that a new man is possible.

This May 19, we commemorate 122 years of his fall in combat in Dos Ríos, and in every place of the world where there is a true Cuban, he is remembered and venerated because in the depths of our soul we would like to be like him.

The great poet Fina García-Marruz, who has approached and nourished Martí's balm, pointed out the perennial identification of the Apostle: "He is the popular invoker of all our evils, the last stronghold of our trust, and forgetful by nature. Daily we pay deep or mediocre homage to that little man with a thin body, with a luminous forehead and eyes of a penetrating sweetness, which has this irresistible strength: that of moving people. He moves people if he writes, speaks, lives, or dies. What is his secret? He does not act, but works."

That is why our Martí is not only the writer who astonishes Rubén Darío, whom he recognizes as a son, but the man of whom a simple and humble soldier affirms: "We did not understand everything he said, but when we heard him, we wanted to die for him."

In an essay insufficiently divulged, the Chilean poet Gabriela Mistral stated that Martí is the case of a soul bewitcher, since he likes the child in his children's book, he lights the young man and comforts the old man, and because of that condition, he lasts without losing the breadth of his kingdom.

That domain organically encompassed life and work, literature and oratory, because through them he performed a fruitful work to unite wills in favor of the Necessary War, his diplomatic verb convinced and it was sweet balm for those energetic veterans to return to a new contest in pursuit of Cuba's freedom.

The Maestro has the rare virtue-less often than other values such as courage and talent-to stimulate the best gifts of every man.

According to García-Marruz: "A few hours in a place are enough to leave everything transformed and illuminated by his true meaning. At any moment in his life we will see him surrounded by faces, as if he had given them back a forgotten and old relationship with the world."

For the winner of the 2011 Reina Sofía Award for Ibero-American Poetry, the fact that José Martí offered himself to action reveals more clearly the mysterious relationship between action and contemplation, because "action is not the empty agitation with which it is confused nor contemplation is an empty speculation. Only those men in whom the act has been - as a Catholic apologist said - really only acted, only this: overabundance of contemplation. I do not think there is a fairer definition."

The author of ¨Las miradas perdidas¨ explains that it is necessary to be filled with silence and solitude so that we can overflow in word and deed, since the glass filled with water naturally overflows out, and the soul full of contemplation acts and fecundates.

In the Apostle, contemplation is founded on the action that remains, and therefore it is not so easy to imitate men like him in whom the act is his intimacy, that is to say, in them acting is not abandoning contemplation but consuming it.

Some reprimand José Martí that being an intellectual was involved in a war that eventually led to his fall in combat, but the lives of men like The National Hero have little to do with chance. Chance only happens to the common man. In the non-common everything is destiny.

"Since our childhood, he seems to be in front of us," says the eminent Cuban essayist The letter he wrote to his mother shortly before his death - that letter Unamuno calls one of the most beautiful sentences ever written in Spanish - is the astounding letter of the one who knows he is going to die. In front of his death, we do not feel the chance that interrupts, but the destiny that seals, the generous song of 'his' deep hour, whose joy disturbed him like a child, and after which it was no longer possible to live. When we read his last letters from the camp, his diary, we have the overwhelming feeling that it is true that he has reached, as he says, the fullness of his nature, like those musical themes, long prepared throughout a symphony and we perceive only towards the end of its true, galloping clarity."

When we approach his life and work, we understand that the soul of the Cubans finds shelter in the legitimate tribute to a man who was not only of his time, but of all times; not only of Cuba, but of the world.

And as the essayist exhorts with vehemence: "Let us return to the one who wrote one day to her little Maria Mantilla, with that almost scholarly tenderness of tenderness that no one has ever had afterwards: You, every time you see the dark night, or the cloudy sun, think of me."

TO THE MOTHER

Montecristi, March 25, 1895

My Mother:

Today, March 25, on the eve of a long journey, I am thinking of you. I think of you incessantly, in the anger of your love, of the sacrifice of my life; and why was I born of you with a life that loves sacrifice? Words, I cannot. A man's duty is there where it is most useful. But the memory of my mother always goes with me, in my growing and necessary agony.

Embrace my sisters, and their companions. I wish I could someday see them all around me, happy with me! And then I will take care of you with affection and pride. Now, bless me, and believe that my work will never go out of my heart without pity and cleanliness. Bless me.

Yours
J. Martí

I have reason to go happier and safer than you can imagine. Truth and tenderness are not useless. Do not suffer.