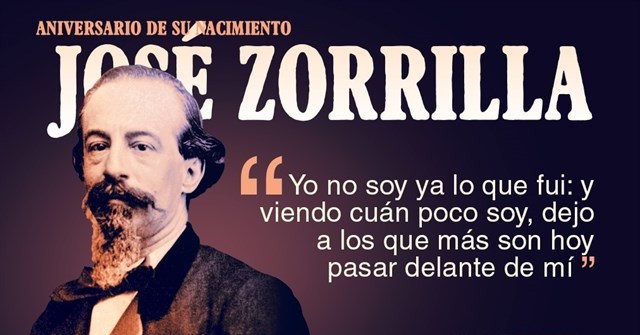 "In the years that have passed by / since I wrote it, / while I grew old / my Don Juan has not aged," said the author of the famous work 'Don Juan Tenorio', the romantic poet José Zorrilla (1817-1893), who was born 200 years ago on February 21, 1817 in Valladolid.

His biographers tell us that he was an elusive, disobedient, pretentious, seductive, bustling, controversial, and bohemian man who had to survive a hostile political and family environment; nevertheless, in spite of his vital craving we find a generous person, with no profit motive in mind nor material attachments.

Some critics point out as a good reason that if Don Quixote was the last knight-errant of universal letters, Don Juan Tenorio was the epigone of the romantics and its author is one of the creators who has left a greater mark in the literary and artistic field, but also in the collective and popular imagination, where phrases and passages have been retained.

Recognized as one of the most representative authors of Spanish Romanticism, José Zorrilla managed to establish his name through his poems and plays and addressed both popular traditions and historical themes.

The poet is author of works such as El Zapatero and el Rey, Cantos del Trovador (1840); Sancho García (1842), El Puñal del Godo, El Caballo del Rey Don Sancho (1843), his popular Don Juan Tenorio (1844), amongst others.

This romantic wrote at the edge of poverty and lived hand to mouth despite the success and popularity of Don Juan Tenorio - one of the most represented works in the history of the Spanish theater - from which he could not enjoy his copyright for having sold them to his smart editor.

He received, however, popular recognition in life and his funeral was a manifestation of multitudinous mourning, unlike Cervantes, another of the emblematic creators of Valladolid, who in life did not receive honors or accumulate money.

With romanticism as a flag, the Spanish playwright became one of the greatest figures of Spanish literature through his acknowledged works and poetry.