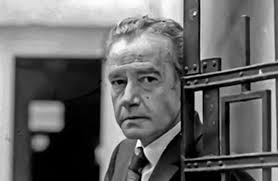 The Mexican writer Juan Rulfo only needed two books (one story book and one novel), to become one of the major narrators of the 20th century; on the 16th of May this mythical Latin American author would have been one hundred years old.

On the centenary of his birth, his ghostly Comala is eternal in the emotional memory of thousands of readers who have enjoyed the novel entitled "Pedro Páramo".

Nowadays he is still remembered as one of the precursors of Spanish-American magical realism due to his simplicity and precision.

The novelist, storyteller and photographer Juan Rulfo (1917-1986) was born in Jalisco, where he spent his childhood, he lost his parents and was separated from his brothers; he did his first studies and nurtured his literary identity which he always kept.

They say that in order to achieve his emaciated and frugal style, Rulfo was endowed with a fierce self-criticism that led him to write tirelessly during the night.


He destroyed almost in the same proportion in which he wrote. According to the testimony of his sister Eva, when cleaning Rulfo's room at her paternal grandmother's house in Guadalajara, she found discarded sheets of texts that would be the source of his narrative world.

The friendship with the writer Efrén Hernández strengthened that perfectionism and took him down the path that would lead him to his first novel, "El hijo del desaliento", which he discarded for being full of rhetoric. A fragment, which is known as "Un pedazo de noche" published in 1959, survived to the evolution of his style.

Efrén Hernández promoted his first publications. These began at the end of June of 1945 with "La vida no es muy seria en sus cosas". That first stage concluded in 1951 with "¡Diles que no me maten!" Both appeared in pages of the América magazine, of which Rulfo was also a member of the writing board. In Guadalajara, in 1945, Rulfo surprised the cartoonists of the Pan magazine by giving them the stories "Nos han dado la tierra" and, months later, "Macario".

The response to the book "El llano en llamas y otros cuentos", which contained seven of the eight short stories that Rulfo published in his time in America, in addition to eight new ones, was decisive in order to endorse his affiliation to the Mexican Center of Writers in an immediate second period as a fellow in 1953-1954. He was accepted to write a novel whose germ commented in 1947 in a letter to his then girlfriend, Clara Aparicio.

The stories were, from that point of view, narrative exercises to acquire the necessary abilities with a view to concretizing a work that initially was titled " Una estrella junto a la luna", after " Los desiertos de la tierra", next "Los murmullos " and that only when arriving at the printing house received the name of the protagonist: "Pedro Páramo".

In that work Rulfo shows how a whole chain of seemingly unrelated facts actually originate in a remote episode, which leads to the destruction of that community called Comala.

The publication of "El gallo de oro" in 1980 confirmed that Rulfo was looking for new subjects after publishing "Pedro Páramo" in 1955. His characteristic demand and the intention of not repeating himself make this brief novel a sample of the course that could have taken Rulfo's narrative if books such as the novel "La Cordillera" and some others would have materialized.

In 1985, Juan Rulfo seemed to have found the tone he wished to imprint on his writing, but his death on January 7, 1986 truncated such opportunities to give the world a new creation.
10 unforgettable phrases by the writer Juan Rulfo
1. Time is heavier than the heaviest burden man can bear.
2. I cry, you know, I sometimes cry for your love. And I kiss you bit by bit every part of your face and I never finish loving you.
3. My mouth is full of you, full of your mouth. Your lips are tight and hard as if they would bite my oppressed lips...
4. Illusion? That is expensive. It was hard for me to live longer than I should have.
5. People die anywhere. Human problems are the same everywhere.
6. Nothing can last so long, there is no memory of such intensity that it does not go out.
7. But her ways were longer than all the ways that I had walked in my life.
8. I have always walked my love everywhere, until I found you and gave it to you entirely.
9. Do not ever fall in love, because it hurts; it hurts here where people say we have the heart.
10. I like you more when I dream of you ... Then I do what I want with you.