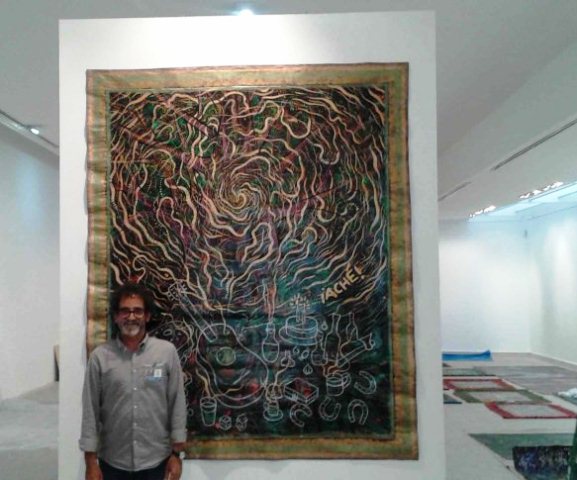 A chronicler is always a genuine architect of memory and Leandro Soto is, besides that, a multifaceted creator, a deep researcher and a tireless traveler. His most recent exhibition is precisely the result of that anthropological vocation, which has persecuted him for the last 30 years.

When talking about the presentation, Soto confesses that "Crónicas visuales" is made up of pieces in a great variety of media and formats, because "this exhibition is the result of a meticulous study of different cultures and it is about creating bridges for dialogue between them. There is a story behind each work that is exhibited, so here we want to show the different tips of the iceberg."

Open to the public from this Friday until May 14 in the Transitory Room of the Cuban Art Building of the National Museum of Fine Arts, the exhibition transgresses the canons of a purely decorative work and intends to interact with the viewer to reinterpret itself.

According to the artist, ethnographer and professor: "it is important to choose in which context the works are shown and what information is addressed to the public. It is not the same to do and exhibit a work in Cienfuegos as in Peru. Every cultural detail, of the environment or nature, changes the expression of the works and their genetic mixture."

Throughout his prolific career in and out of the country, Soto has ventured into various manifestations of the visual arts such as painting, installation, printmaking, performance and stage design. In each case, he defends in his creations a social, interdisciplinary and intercultural approach.

As Dr. Grisel Pujalá, who is the curator of the exhibition, would say, "Soto uses his creation wherever he finds himself as an instrument of dialogue and exploration."

His work extends to film, performance, theater and innovative integrating expressions of different disciplines of art, but he always proposes a conciliatory and inclusive discourse: "he integrates his study and observation of the indigenous of the Americas, the African, the Asian and the European through the lens of a Caribbean worldview."

Precisely his Caribbean and Cuban vision of reality, with all the cultural and historical complexity that this implies, is possibly what defines the exhibition of Soto in Fine Arts.

On this occasion, adds Dr. Pujalá, "his works inhabit cultural spaces that are sometimes lost and propose a reevaluation of historical memories, demonstrating his interest in otherness and at the same time in self-reflection, as key factors of understanding among people and cultures."

To get to Cuba, the exhibition has traveled through different regions of the world, showing its pieces indiscriminately in important academic institutions of America and international events. However, the transcendental for this artist is to integrate his vision of the world into each work, in his entire artistic expression. It is, in short, to live to create.