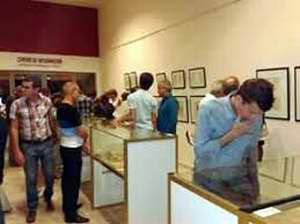 Revealing the vital past of an intellectual who built an unmistakable universe from his writings and canvases is the exhibition "Ele-Nussa: su letra, su arte, su música", which is dedicated to the centenary of the painter, engraver, draftsman, narrator and art critic Leonel López-Nussa (1916-2004).

The exhibition will be open until February 28, 2017, at the Antonio Rodríguez Morey Gallery of the Information Center of the National Museum of Fine Arts (MNBA). This exhibition displays a creative activity through the artist's personal works, which include articles, correspondence, photos, books, illustrations, personal objects and drawings in small format.

"It is a dialogue with the MNBA collection of both lithographic works and the collection of the museum from the Information Center, with magazines and books published by this creator," says curator Aurora Díaz about the origin of the pieces.

The exhibition for this specialist has a high value, since along with photos, files, and clippings, personal objects are presented that the family has treasured for years, a particularity that gives the curatorial work an added value, because it offers a comprehensive closure of everything that has been done for the centenary of the renowned visual artist.

"As an artist and writer López-Nussa joins those cases of multifaceted Cuban intellectuals," says the researcher, "his work as a draftsman alternated in the writing of several magazines such as the prestigious cultural supplement Lunes de Revolución, in which he was in charge of the art page and shows."

Although he indicates that his most daring aspect was his work as a critic, a task for which he received the Guy Pérez Cisneros Life Achievement Award.

Leonel Isaac López-Nussa Carrión was born on May 20, 1916 in Havana, and his childhood passed between Puerto Rico and Pinar del Río. He studied in San Alejandro for a very short time and he was, above all, a self-taught.

Signos, Hoy, Lunes de Revolución, Granma, INRA, Cuba International, Bohemia, Verde Olivo, La Gaceta de Cuba and Revolución y Cultura are some of the publications where he collaborated with texts or illustrations.

He designed book covers, and as an illustrator of "La tierra del mambí" by James O'Kelly's, he won a silver medal at the International Book Fair in Leipzig, Germany in 1970. One of the awards he won in Cuba was the 2000 Guy Pérez Cisneros Critic Prize for Life Achievement.

Relevant critics have assigned to their work judgments that are read in serials and books about Cuba and other countries. His compatriot Pedro de Oráa, a writer and poet, has stated, "His criticisms encouraged against wind and tide, and for many years, an almost desert area of thought in that specialty, to the extent that his imprint, after his retirement from the journalistic practice, is still remembered."

Since his first personal exhibition in the United States in 1949, there were others in the United States, as well as in France, Switzerland, Spain, Mexico, and, of course, Cuba. In these countries, in England, Italy, Germany, Costa Rica, Brazil and perhaps others his works are collected.

Knowledge of the world - he also lived in Mexico and France - reinforced an appreciable Cuban identity in the themes and language of his critical exercise, in which sharp judgment and sense of humor coexisted harmoniously.