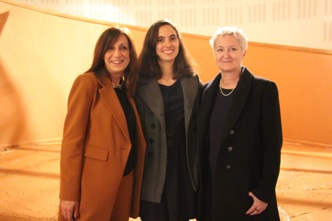 From left to right: Salima Fivet, who is the director of the Media Library of Décines, the artist Jenny Feal Gómez and Isabelle Bertolotti, who is responsible for exhibitions at the Museum of Contemporary Art in Lyon.
A highly regarded arboreal species of the tropic has been planted in the middle of the French winter and it catches the eyes of visitors to La Spirale del Toboggan.

Mamey, is the first personal exhibition in France of the young Cuban artist Jenny Feal Gómez, who exhibits her work as part of the Lyon Contemporary Art Biennial.

There is the piece that starts from an endemic fruit from the Antilles and invites the viewer to accept the trip to the interior of its pulp, in a combination of sensory experiences, even synesthetic, says Maestro Sara Alonso Gómez, who is the curator of the exhibition.

It is an installation built with various elements such as books and tropical fruits, which play with the circular architecture of the exhibition hall and its different visual angles. The rules of the game are not evoked beforehand; little by little, the visitor must decode them and accept their active and activating role in a work that invites circulation and participatory involvement, says Alonso Gómez.

Its components, however, only participate in an allusive and parabolic manner, creating a new system of chronotopic relations that takes distance from realistic reproduction to embark on the path of fiction.

The pulp then becomes a stable lake of mud that invades all the surfaces of space, and its wicker seed suspended on top becomes the small sacred chest continent of what is inaccessible, explains the curator.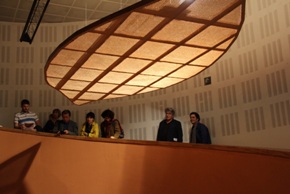 The Mamey exhibition, which will remain open until November 30, seeks to establish links between nature, literature and art, giving rise to a sensory and poetic experience. For the artist, Cuba is a reference and an inexhaustible source.

Jenny Feal studied at the San Alejandro Academy and the University of the Arts; she is a Master of the School of Arts of Fine Arts of Lyon and last year she received the Renaud Prize for her installation "Te imaginas", awarded by the homonymous Foundation and the National School of Fine Arts of Lyon.

Her works have been exhibited in important events such as the Biennial of Havana (2012), the Palace of Tokyo (2014) and the Villa Médicis, in Rome (2015). She is currently a resident artist of the ateliers of the Gran Large, in Décines, France.

With this installation in the Lyon Biennial, Jenny adds another list of achievements to her career - in spirals -, which every year surprises the audience with its uniqueness and creativity.