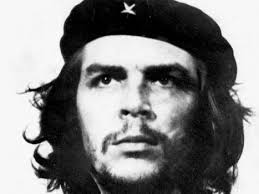 When you go deeper into the life of Ernesto Guevara de la Serna, you know the details of the multiple pseudonyms that identified him in the family environment, among his friends and as a legendary guerrilla man, both in Cuba and during the internationalist missions.

When he was just six months old his parents started calling him Teté, a nickname with which he signed letters to his relatives for 35 years, and with which he mocked the CIA for a long time.

Being very young both, his friend Alberto Granados called him Fúser, which was like a kind of reduction of the phrase "furious Serna", although they also called him Pelao because of his shaved head.

In his time as a medical student, when he handled the corpses without gloves, his companions began to call him Chancho, which means pig, and he later signed several articles in the Argentine magazine Tackle and a letter written to his mother on January 28, 1957. In that magazine, he also wrote under the credit of Chang Cho, trying to simulate a Chinese name.

During the fulfillment of his mission in the Congo he acquired the pseudonym of Tatu, which was taken from the native dialect soagil and that means "the three". In Bolivia, he became Adolfo Mena González when he entered the country and during the guerrilla in Ramón, with which he signed in his diary, in addition to Fernando and Fernando Sacamuelas, the latter for the service of "dentist" that he gave to the settlers.

However, the most famous nickname was that of Che, which has generated admiration, respect and affection in Cuba and in the world, and that for himself meant "the most important thing in his own life". In a letter to his Argentine friend Fernando Barral in 1959, he wrote: "Receive the fraternal embrace of Che, which is my new name."

Returning to the writer, poet, essayist, literary critic and Argentine biographer Ezequiel Martínez Estrada, when expressing Che Guevara is the same as saying Mi Guevara, according to the Guarani Indians.
Moreover, in that word of three letters, Che encloses the longings of rebellion, justice, work and combat of many of his contemporaries and generations to come, that is why everyone wants to carry Mi Guevara forever as a flag.

Note:
-Some data taken from the Periódico Trabajadores, June 10, 1996.