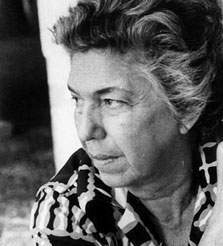 What Rita feared so much never happened. She began to exhibit in 1932 and did so constantly until the very year of her death. "Diana" was her first exhibition, a work in platinum plaster that suggested a start full of future.

Her creations always depended on her concerns. Many times she broke the rules and reinvented ways of doing: she was in the vanguard of her time. The play with proportions and stylization of the figures to touch the neatest elegance were an essential requirement in each movement. The exceptional sinuosity of her works reveals an aesthetic of her own, always suggestive, with a thousand metaphors, without the explicitness of direct messages. Those who enjoy her art feel the desire to contemplate it again and again and then, they will be able to distinguish forever the unparalleled stamp: Rita Longa Aróstegui.

Her vocation was clear to her since she began in 1928 at the San Alejandro School of Painting and Sculpture. She then entered the Lyceum of Havana, where she attended from 1930 to 1932. However, despite her academic background, she always emphasized the self-taught character of her career: "My first works consisted of the plays of lines and shapes, searches for daring solutions, trials and errors, and new expressions that became more secure."

In this constant growth, she was amongst the founders of the Free Study of Painting and Sculpture, where she taught classes on direct carving; she worked with the painters Eduardo Abela, René Portocarrero, Mariano Rodríguez and Domingo Ravenet, and founded and directed the Advisory Council for the Development of Monumental and Environmental Sculpture (CODEMA).


In addition, they say that this gift to turn plaster or bronze into delight was a sweet and maternal feeling for those around her, especially the younger ones. This is what the sculptor Tomás Lara assured, one of those who could witness that light: "Rita is a paradigm of contemporary Cuban sculpture; a very outstanding figure: firstly because of everything she did for the development of contemporary Cuban sculpture and, furthermore, because she was a woman and had enormous energies and impulses - I would say that even maternal - in serving and welcoming all those who were then young people."

Accustomed to applause, Rita always wore the same simplicity. In 1995, when she received the National Visual Arts Prize, she spoke about the affection that the people professed: "People know my work because they have been watching it for more than 60 years and that is the only reason I give to my popularity. It is the time and repetition that impose the work of an artist. It does not matter whether you remember its name or not. Work is what is left."

With this precept she left us the slender Santa Rita de Casia, which was criticized in its debut as a very sensual figure for a religious meaning, but it was valued by critics as an emblematic and conceptually revolutionary work for its time ... She left us the four busts in bronze of the Indian Hatuey located in the city of Baracoa; the "Grupo familiar" of the Parque Zoológico de La Habana: her first work with animals; the Fountain of the Antilles as a reference to the history of the cacique Jaias, who according to legend, when his little son died, kept his corpse inside a pumpkin and after the years, when opening the sarcophagus, fish and water emerged from it and so the Antilles arose…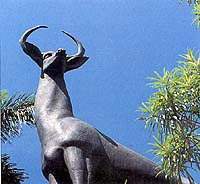 The work of Rita Longa was the result of great imaginations and popular stories. These inspirations are summarized in one of her most famous works: La Virgen del Camino. There she threw two coins when fusing the figure and then, as per divine design, the passers-by began to throw money at the sculpture.

According to Rita every night a delegation from the Beneficencia came and collected the cash in public, they took a record of the amount and deposited it into an account created for it. "It reached the amount of a hundred thousand pesos. I met a boy who had an artificial arm paid for by the Virgen and I met, above all, a little girl who had been born without legs, they bought prosthetic legs as she grew up, with that money."

For reasons such as those Rita Longa could not fear height, or the fatigue of work, or the risk of betting on the young people. One day she confessed: her only fear was to lose her lucidity and break the threads of her inspiration.