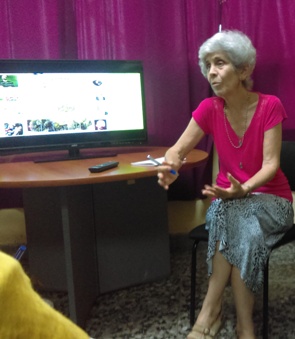 The validity of Marti's thought in important spheres of contemporary society is a constant premise in the social development of the country, since the humanism and visionary character of José Martí's texts keep him present in the memory and hearts of Cubans.
With the objective of remembering the 123rd anniversary of his fall in combat, Dr. Concepción Campa, who is the Director of the Finlay Institute, analyzed the impact of Martí's work in creating awareness about a healthy life, during a lecture given on Radio Enciclopedia.
The eminent scientist and researcher, who is the creator of the BC Meningococcal Vaccine, shared with the radio station staff a compilation of her authorship that revisits the work of José Martí and his reflections on the direct impact of emotions and human behavior on physical health.
Based on the ideas of the hero of Dos Ríos, Campa provided the staff of Enciclopedia with an update on the latest scientific research, specifically BioNeuroEmotion, a discipline that studies the cause-effect link between negative emotions (hate, envy, anger, pride, pride, aggressiveness, and violence) and the appearance of diseases because of them.
The Doctor considers, based on her studies, that achieving human harmony is the shortest way to combat physical ailments and put into practice therapeutic resources to achieve this balance. In this regard, she praised the daily work of the radio station Radio Enciclopedia, which she considers it is an admirable task. As Martí said: "Art is the medicine of the soul and the soul has to be studied as the body."
According to what the studies linked to BioNeuroEmotion reveal, the best way to face physical ailments could be to identify all the negative that affects us emotionally and fight it with the therapy of love, gratitude, joy, kindness, admiration, harmony, friendship and forgiveness.
In this direction, Martí, as a great poet and writer who was, calls us to know ourselves to be happy and contribute to the health and happiness of others. This is what Dr. Campa calls a conscious diet: eating well, which is synonymous with a healthy and balanced diet, getting closer to nature, living in peace and harmony and nurturing the soul with positive cultural and sensory experiences.
It is with these premises that Campa and many other Cuban intellectuals and researchers contribute to the socio-cultural well-being of the country and preserve the historical memory of our heroic struggles. In the scenario of extreme violence that lives in the contemporary world, the validity of Martí's thought becomes more latent, as its repercussion is necessary in all areas of life.