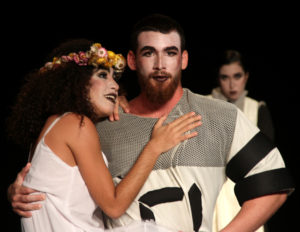 The play Así que pasen cinco años (1931) by the Spanish playwright and poet Federico García Lorca could be described as premonitory (1898-1936); Lorca wrote it five years before his death and since then, for its surrealist vocation and metaphorical density, it integrates the so-called "impossible theater" of the author.

Marked from the beginning by the bond between "El Joven" and "El Viejo", both characters will return to the national scene next October, when the nation opens its doors to the XVII International Theater Festival of Havana, and the staging, which is already announced in official selection, is presented by Teatro El Público and its staff of actors under the direction of Carlos Díaz.

From that moment - and in our condition as spectators - we will be part of the theatrical history in which a "typist", a "boy" and a "cat" will also perform; "a bride" and a "rugby player", in addition to a teenager, who in his longing to become increasingly young, ends his dream until he goes back to his origins.

"Así que pasen cinco años" is suggestive amongst the theatrical offerings of the Festival, but it has been revisited by Carlos Díaz in recent weeks, during the graduation exercise carried out by the outgoing promotion of the National Theater School.

Amongst them were Chabely Díaz (the typist), Alejandra de Jesús (the bride), and David Pereira (the young boy), for whom working with Díaz was "a unique experience."

They have said that together with the 2015 National Theater Award, they prepared their diploma work, consisting of Lorca's work performed for the occasion, and that for a long time - due to its complexity - was considered to be unperformed.

However, Carlos Díaz gave free reign to his theatrical mastery, and after his assessment of "¡Puro Lorca! With all that poetry, with such powerful metaphors, "he returned in body and soul to the mysteries of the Spanish playwright, to return them in "Así que pasen…" to the public, as it was conceived more than eight decades ago.

Scholars and critics of Lorca's work classify their argument with a linear development, while interpreting it as "a dream" or "a nightmare", where the characters that surround the "young boy" - according to Antonio F. Cao, of the Hofstra University, Hempstead, New York, are expressed in a language that escapes the sense of logic, and to prove it he turns to the following fragments:

Old man:
Yes, we must remember about tomorrow. (1047)*.
Maid:
... My father was in Brazil twice and was so small that he could fit in a suitcase. Things are forgotten and bad is gone (1083)

"Así que pasen cinco años" was shown by "El Público" this September in the Tito Junco Hall of the Bertolt Brecht Cultural Center, and is ready for the XVII Annual Edition of the International Theater Festival of Havana, to be held on the 20th to the 29 of next month.
Note:

The number in brackets corresponds, according to Antonio F. Cao in his article "Así que pasen cinco años'' by Federico García Lorca: Teatro y Anfiteatro, to the page in which the text quoted in Federico García Lorca, Obras completas, Madrid: Aguilar, 1965 is found.